Papers scrutinise defence review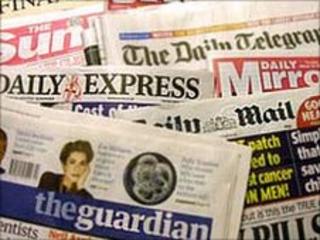 The defence review comes under scrutiny in several of the day's papers. The Daily Mirror declares in the headline for its leader, "Our boys let down".
The paper fears "brutal defence cuts" may be on the way.
The Times is also unhappy about the review. "This is salami-slicing on the grandest of scales", writes its Defence Editor, Michael Evans.
The Daily Mail is more up-beat. It says Defence Secretary Liam Fox should be applauded for promising a leaner MoD.
Slash and burn
The Guardian says cuts in the Department for Environment, Food and Rural Affairs could set back conservation by many years.
"The sell-off," it says, "highlights the extreme lengths being considered to meet the government's demands to slash environmental spending".
The Daily Express focuses on the passage of the seasons.
"That's the end of summer" is its headline, followed by advice to "pack away your sunscreen and shorts".
Female directors
The Independent highlights a gender gap in British business - revealing that of more than 300 executive directors of top UK companies, only 20 are women.
There are profiles of the five female chief executives of FTSE 100 companies.
But a comment piece by Laura Tennison - voted businesswoman of the year 2010 - argues it may not just be sexist attitudes that lay behind the numbers.
"Is it that women have a more balanced view of life - and don't always put career before every other aspect?"
Runaway train
The Daily Mirror reports that a "runaway Tube train brought terror to rush-hour commuters".
It says an unmanned maintenance train nearly crashed into a passenger train after running out of control through six stations.
Meanwhile, the Sun's frontpage runs the headline: "Suicide by hooker".
The paper reports a City banker hanged from a tree after paying two unwitting escort girls to help him commit suicide by playing his "executioners".