Blackpool fans enjoy taste of Premier League success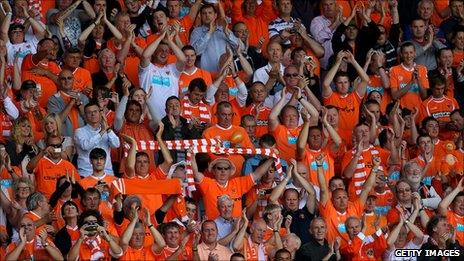 It was a scene many fans had waited nearly 40 years to be part of but even the devoted Tangerine Army could not have wished for a better start.
Blackpool kicked off their first game in the Premier League with a triumphant 4-0 win in front of a sea of orange-wearing supporters who made the relatively short journey to northern rivals Wigan Athletic.
For many it was a family event, as generations stood side by side to be part of the Tangerines' first appearance in football's top flight since 1971.
And it was more than just a game of football, with promotion to the Premier League securing jobs and a much-needed boost to the seaside town's end-of-the-pier tourism industry.
Lifelong Blackpool fan David Dixon, 53, was one of those who was in Wigan to cheer on his team.
He said he remembered the team play in the old First Division so many years ago.
"We've had a good ride for the last 10 years, we've had some good days out and we're going to have some more I hope," he said.
Carol Bates, 45, who helps to run the Tango Junior Seasiders supporters' club, said the rise to the Premier League would be great for the town.
"If we can stay up it will be fantastic, if not we'll just enjoy ourselves this season," she added.
Nurse Debbie Senior, 31, said local businesses and the economy would feel the benefits.
She said: "Everybody's getting together, everyone's a Blackpool supporter now and years ago there wasn't many of us about."
Blackpool secured a place in the Premier League by defeating Cardiff 3-2 in last season's Championship play-offs.
Hundreds of fans travelled to Wigan's DW Stadium for the season opener, bringing the motorway to life with tangerine-coloured flags on cars.
Back home the town centre had been awash with colour and song as the excitement built.
It was not long before Blackpool's dream turned into a reality as the stands erupted into cheers from the seasiders after a 16th-minute goal by Gary Taylor-Fletcher.
A second and third by Marlon Harewood put the newcomers into a more than comfortable position in the first-half.
Alex Baptiste hit home the fourth goal in the second half to seal a memorable victory.
The win put Blackpool at the top of the Premier League, something many fans will be shouting about.
Blackpool Gazette football writer Steve Canavan told BBC News the morning of the match brought colourful scenes to the north west resort.
"It's unheard of really, it's normally people huddling around in the rain," he joked.
"There were so many cars coming down on the motorway with tangerine flags coming out of them."
The team should have started the season on home turf but redevelopment work to Bloomfield Road is still under way.
The last time Blackpool played against the big names in football you could buy a house for £5,000.
Club legend Jimmy Armfield summed up the reaction from many fans who witnessed the team's ascent in May after a play-off promotion no-one expected.
"Some people tend to forget that Blackpool were actually relegation favourites last year and they shocked us all by getting up," he said.
"They are relegation favourites again and the manager Ian Holloway has actually said the team is weaker than it was last year."
But he added: "They might shock us again, we'll see."
Related Internet Links
The BBC is not responsible for the content of external sites.