Reports of £150m police pay-outs spark row over bonuses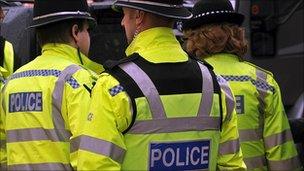 Private sector-style bonuses have "no place in policing", chief constables have said amid reports officers received more than £150m last year.
The payments have always been "anathema to policing", said Association of Chief Police Officers head Sir Hugh Orde.
Rank and file officers also want a fairer system of recognition, the Police Federation has said.
The Superintendents' Association said the bonuses acknowledge "individual exceptional performance".
Requests under the Freedom of Information Act uncovered the £150m figure, according to the Daily Telegraph which said some individual officers were receiving tens of thousands of pounds per year in "incentive" payments.
The bonus system, devised by former Home Secretary David Blunkett, was designed to reward officers undertaking the most demanding jobs such as recovering bodies or those who show consistent high standards.
However, it was criticised as "divisive" by Her Majesty's Inspector of Constabulary shortly after it was introduced nationally in 2003.
And Sir Hugh, president of the organisation which represents heads of forces in England, Wales and Northern Ireland, told the BBC: "Acpo has consistently argued that performance-related pay deals styled on the private sector should have no place in policing.
"Police officers work in imprecise environments, we rely on them to make split-second decisions. That has got to be recognised, but we need to do that in a fair way."
Decisions on bonus payments are made by individual chief officers but many, including Acpo vice president Tim Hollis at Humberside Police and the Metropolitan Police Commissioner Sir Paul Stephenson, have refused to accept them.
Sir Paul has said he has turned down more than £100,000 in bonuses since 2005.
However, five chief officers at Northumbria Police have reportedly shared £115,000 between them.
Police Federation chairman Paul McKeever said cash available through bonuses should be put back into officers' regular pay.
"It's not an incentive that works for police officers. You're going to get out and do the job no matter what," he said.
More than 500 senior officers receive payments for targets worth a reported £1.5m per year.
However, Ch Supt Pat Stayt, of the Superintendents' Association, said the deal was "in accordance with government wishes at the time" and that ministers had never sought to renegotiate it.
"One small part of the deal relates to the payment of bonuses for individual exceptional performance in meeting objectives during a year and we are aware that a number of our members have been awarded those additional payments during the past seven years," he added.
Related Internet Links
The BBC is not responsible for the content of external sites.