Teachers 'failing to help pupils pick correct A-levels'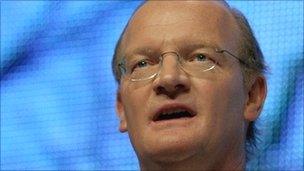 State school pupils are being rejected by universities because their teachers are giving them bad advice on what A-levels to study, a minister has said.
David Willetts, Minister for Universities and Science, said many young people were studying A-levels unsuited to their chosen degree.
Mr Willetts told the Times that pupils needed better careers advice at 15 to help them choose the best A-levels.
Teaching unions said there was no basis to the claims.
Mr Willetts said: "There are people who do stay on for A-levels but they are doing PE, religious studies and geography, and they say they want to be an engineer."
He added that while schools were thinking about how to help pupils maximise their A-level grades, "perhaps a quarter" of all A-levels that young people study in state schools are not valued by most universities.
Andy Brown, incoming president of the Association of Teachers and Lecturers, said teachers gave good guidance to their pupils.
"For generations of pupils, it has been their teachers who have identified their skills and interests and suggested avenues down which they can be utilised," he said.
Patrick Roach, deputy general secretary of fellow teachers' union NASUWT, added that he had not heard "much by way of complaint from the vast majority of universities".
"What you may hear from a relatively small group of elite universities is the argument being spun that they can't admit students from the state sector because of concerns about quality," said Mr Roach.
"We think that's a form of post-hoc discrimination from a system which favours those from elite independent schools."
The latest A-level results are due to be announced on Thursday.
Related Internet Links
The BBC is not responsible for the content of external sites.