More opencast mine bids 'likely on greenfield sites'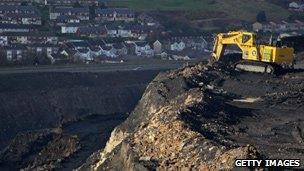 Applications for opencast mining on greenfield sites are likely to increase to meet the UK's demand for energy, the British Geological Survey has said.
The research council says the stock of brownfield sites suitable for opencast mining is now running out.
Mining corporation UK Coal says this supply of fossil fuel is vital to meet energy demands.
But opponents say opencast - or surface - mining is dirty and creates eyesores which destroy areas of countryside.
Most of opencast mining in the UK currently takes place on brownfield sites, but that stock is running out and the British Geological Survey says more applications are expected in the future to mine in the open countryside.
Environmental groups say opencast mining ruins the natural habitat, but UK Coal says there are safeguards in place to protect the countryside and mining companies are legally obliged to restore the land when the mine finally closes.
Opencast mines in the UK are expected to produce 10m tonnes of coal this year.
BBC1's Countryfile will present a John Craven report on opencast mines at 1830
Related Internet Links
The BBC is not responsible for the content of external sites.