Papers evaluate school standards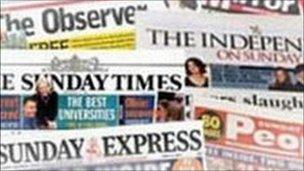 The standard of school education comes under scrutiny across the Sunday papers.
But, in the Mail on Sunday, one leading headteacher fears that universities may actually discriminate against pupils who do get A-stars.
The The Sunday Times reports on research which suggests that the recession is widening the gap between the north and the south of Britain.
At least two of the papers now expect the government to ask the former Labour minister Alan Milburn for help in formulating policy on social mobility.
Conversely, it argues "that the best way to help the under-privileged is to create a genuine meritocracy".
The Americans tend to judge their presidents on how well they perform in their first 100 days.
That anniversary falls this week for David Cameron.
It says he was struck while sheltering from the rain. Emergency calls were logged at 13 minutes past one - 13:13.
Meanwhile, the Sunday Express runs the headline: "Super Anne: The indestructible royal."
Related Internet Links
The BBC is not responsible for the content of external sites.