Prince Charles to go on national green projects tour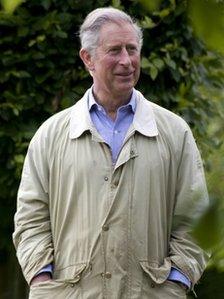 Prince Charles is to undertake a five-day tour of Scotland, Wales and England to encourage sustainable living.
The tour, in September, will see the prince joined for part of the trip by the Duchess of Cornwall to launch new initiatives and existing ones.
They include a major scheme to encourage people in Wales to help sustain tropical rainforests.
There are also much smaller-scale projects, including allotments in public spaces such as railway stations.
The Prince of Wales will start the tour in Glasgow, before travelling to cities and towns including Edinburgh, Carmarthen, Bristol, Newcastle, Todmorden, Manchester and Birmingham.
He will also visit an estate in Nottingham where residents have reduced their energy bills by installing solar roof panels.
The project is of particular interest to the prince, who plans to install 32 solar panels on the roof of his London home Clarence House.
The Prince will be travelling on the royal train, which runs on sustainable bio-fuel, and host a series of meetings and receptions between station stops.
The programme of visits will run from 6 to 10 September.
Related Internet Links
The BBC is not responsible for the content of external sites.