Voting on new home schemes 'could tear villages apart'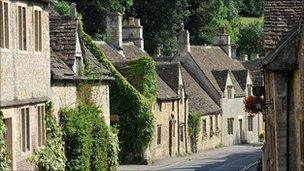 Government plans to hold local referendums on new housing schemes in England could tear village communities apart, rural campaigners have said.
They say plans to require 80-90% of local people to approve new building schemes in villages would create conflict and bring projects to a halt.
The Rural Coalition says elected parish councils should instead be able to initiate community-led developments.
The government wants new developments to have overwhelming public support.
Announced as part of David Cameron's "big society" idea, the government's plans would enable villagers to form local housing trusts and build homes without seeking council planning permission, subject to the referendum results.
It aims to help solve the problem of providing affordable housing in villages.
The newly-formed Rural Coalition, a group of countryside and planning groups including the Local Government Association and the Campaign to Protect Rural England said this was a "do-or-die moment" for villages.
Instead of the government's referendum plan, it calls for elected parish councils to be allowed to initiate small community-led developments within a localised planning system to meet local needs.
The former Lib Dem MP Lord Taylor, who chairs the Rural Coalition, warned that unless something changed much of the countryside would continue becoming "part dormitory, part theme park and part retirement home".
But he told BBC Radio 4's Today programme: "The government are saying we need these homes, they are saying they want to empower the communities to do it, but... they are making it virtually impossible to deliver, and that is a failure of courage."
He said the government should focus on "reinvigorating" elected parish councils by "giving them the ability to deliver these homes".
"The government is talking about the right things for empowering communities, [but] what they will do is create not a right to build, but a right to block for a very small number of 'nimbys'."
The government said the Community Right to Build scheme would give people the power to build new homes, shops and community facilities.
A Communities and Local Government spokesman said: "Since Community Right to Build schemes will not need to make a specific application for planning permission, it is right that any development would need the overwhelming support of the local community through a referendum.
"The threshold for this is under consideration but is likely to be between 80 and 90%."
And villager who supports the scheme told the BBC she was "offended" by some commentators who had suggested locals were not capable of making the right decisions for their area.
Jeni Robinson, 67, who has lived in the West Sussex village of Easebourne, near Midhurst, for 26 years, said a referendum system would encourage locals to debate development issues and decide what is best for the village.
"If you give people the responsibility they will respond. No system is perfect but you have to trust people," she said.
"At the moment most people feel they don't have a say. There are not many people making decisions for the majority," adds Mrs Robinson.
The Rural Coalition has also urged the government to take proper account of the impact of public sector funding cuts on rural areas, before finalising its Comprehensive Spending Review in October.
It said it wants local councils to be freed up to suggest innovative solutions to help address the need for new housing for young families and low-income households in rural areas.
And it is calling on the government to allow communities to share some of the savings the government makes on public spending to fund schemes such as local ownership of shops, post offices, pubs, broadband hubs, sustainable energy and transport.
Related Internet Links
The BBC is not responsible for the content of external sites.