Newspaper review: Incapacity benefit claims 'sickening'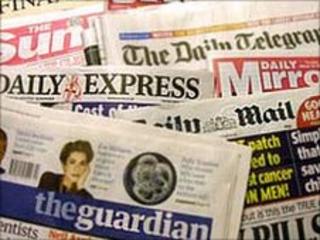 The Sun reports official figures showing that almost 900,000 people in Britain have claimed sickness benefits in the past 10 years.
The paper singles out an unemployed couple in Bristol who are expecting a 12th child. The headline reads "Dozen it make you sick".
The Daily Express says the benefits system is producing generations of what it calls "welfare aristocrats".
They are people without any concept of work and living off the earnings of others, it says.
The Daily Mail continues to press for an inquest into the death of government weapons expert Dr David Kelly seven years ago.
It has a poll suggesting only one in five people accepts the official verdict of suicide, while eight in 10 want a full inquest.
Dr Kelly was identified as the source of a BBC report into Iraq's military capability by Andrew Gilligan.
In the Daily Telegraph, Gilligan says Dr Kelly's death was suicide, but says an inquest would "stop the nonsense once and for all".
'Triple whammy'
There is little optimism as A-Level results day looms. "Who would want to be 18 today?" asks the Independent.
The paper describes a "triple whammy" of difficulties for school leavers.
A record number are likely to miss out on university, those who are successful will run up debts of nearly £25,000, and graduates face a tough job market.
The A-level results are released on Thursday. The Times says tens of thousands of students who just miss their grades will not get on courses.
President Obama has been taking a break in Florida. The Guardian's front page shows him swimming happily in the Gulf of Mexico with his daughter, Sasha.
The trip was organised to convince holidaymakers that the region is safe to visit, despite the BP oil spill.
The Guardian's headline sums up the message as: "Come on in, the water's lovely... really".
The paper reports that because of heavy cancellations, US coastal states could lose £23bn in tourism revenue.