Hay shortages cause rise in bale thefts, say farmers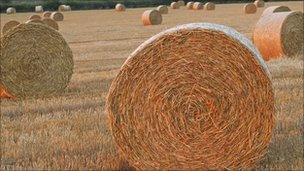 Farmers say they have seen a rise in the number of break-ins by thieves stealing hay this summer.
The thefts are being blamed on a surge in the cost of hay of at least 40% because supplies are down by a fifth.
The first six months of 2010 were the driest in the UK since 1914, which meant conditions were not good for growing hay.
Farmers are reporting hundreds of pounds of hay stolen, with some saying they could be forced out of business.
The National Farmers' Union said police needed to be quicker to respond to rural thefts.
The shortages have seen the average price of a bale of hay increase from about £3 to £5.
Normally farmers would have back-up supplies of hay from last year.
However, the very cold winter meant animals were unable to graze because much of the country was covered in snow, so farmers had to rely on their stored supplies to feed them.
Farmer John Jordan said the weather conditions meant this year's hay was good quality, but there was about 20% less of it.
He told BBC News: "We've noticed that a number of isolated farms and livery yards have been having hay stolen.
"It's very upsetting to feel that people will steal hay from a small farm like ours. It puts so much pressure on us because we really have to feed that hay to the animals.
"It's a big expense for us to go out and replace that hay."
Farmer Linda Sewell, who runs a hay supply business, said she would not be taking on any new customers this summer.
"The phone's ringing, people are even calling in because we're right on the main road, asking 'have you got any hay for sale?'," she said.
"But no, we will look after our regular customers this year as usual."
Already this summer, rural communities in Berkshire have been warned to be on their guard against hay thieves.
Helen Evans, of the Thames Valley Police Horse Watch scheme, told farmers: "With the possibility of hay and straw being in short supply, and therefore more expensive, please think about ways of securing your hay, straw, bedding and forage."
And farmers in Cambridgeshire have reported that the hay shortage has caused prices of bales to increase.
One farmer in the county, Shauna Hawthorne, said she was experimenting with feeding her sheep mashed swede as a substitute.
Related Internet Links
The BBC is not responsible for the content of external sites.