Dead British soldier in Afghanistan named by MoD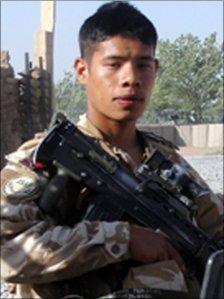 A British soldier killed in southern Afghanistan on Friday has been named by the Ministry of Defence.
Nepalese-born Sapper Ishwor Gurung, 21, from 69 Gurkha Field Squadron, 21 Engineer Regiment Group, was shot dead in Nad Ali, Helmand province.
Commanding officer Lt Col Bobby Walton-Knight said Sapper Gurung was "an exceptionally good soldier".
The number of UK personnel killed in operations in Afghanistan since 2001 now stands at 331.
Sapper Gurung had been working in support of 2nd Battalion Duke of Lancaster's Battle Group, improving defences at forward operating base Shahzad.
The MoD said he was shot when his troop came under attack by insurgents.
Col Walton-Knight said: "Sapper Ishwor Gurung was enormously proud to be a Queen's Gurkha Engineer, he loved his squadron and... he loved soldiering."
Born in Pokhara, Nepal, Sapper Gurung passed selection for the Brigade of Gurkhas in 2007 and trained as a bricklayer and concreter in the Army. He was on his first operational tour.
Sapper Gurung leaves a mother, Sunkumari, his brother Ramprasad and sister Richa, who said jointly that he was "very proud to be a Gurkha".
Their statement said: "Ishwor was 14 years old when his father died and he fully supported the family as a young man.
"He was a very caring and a very bright boy. He followed his father's footsteps, his father was a soldier in the Indian army."
Defence Secretary Liam Fox said Sapper Gurung was an "outstanding young soldier".
"He was held in high regard by his fellow soldiers as courageous, loyal and honourable in his work, which was vital to our operations in Afghanistan," he said.
"His death is a sad loss to the Queen's Gurkha Engineers, and my thoughts are with his family, friends and colleagues."
Related Internet Links
The BBC is not responsible for the content of external sites.