Road risk higher among deprived children, says study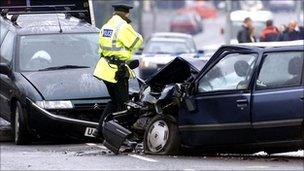 Children from deprived areas are at far greater risk on the roads than those from richer areas, a UK study found.
It suggests youngsters in Preston are more than five times more likely to be injured than those in London's wealthy borough of Kensington and Chelsea.
Campaigners say affluent children are less likely to spend time on the street as they have gardens to play in, and are driven around in safer cars.
Road Safety Analysis examined 120,000 crashes involving children from 2004-8.
The not-for-profit company used postcodes to compare risk levels with children aged up to 15 across 408 local authority areas.
In the most dangerous area of Preston, children have a one-in-206 chance of being hurt on the roads every year - more than twice as likely as the national average of one in 427.
In the safest area of Kensington and Chelsea, by comparison, one child in 1,158 was injured.
Dan Campsall, a director at Road Safety Analysis, says: "The results of this study show a worrying discrepancy between different parts of the country.
"Children in some areas experience considerably higher risk from road traffic crashes than others who might be living just over the border.
"There is still further study to be undertaken and we are keen to make sure all of the data and analysis techniques that underpin this study can be accessed by local authorities to allow them to investigate how they might ensure the safety of children from their communities."
He says children from deprived areas are more likely to live near major urban thoroughfares and to walk and ride bikes rather than being driven.
Some communities may not be receiving the same quality and focus of education on road safety, he adds.
More accidents happened on Fridays than any other day, followed by Saturdays, it adds. The fewest casualties were on Sundays.
May was the most dangerous month, with about 25% more injuries reported than in the winter months.
Julie Townsend, campaigns director for road safety charity Brake, told the BBC: "Poorer families may also be more likely to have older cars with lower crash protection standards than richer families.
"And they may be more likely to use second-hand child seats - which we don't recommend - or none at all because of the expense."
She said the UK had a particularly poor record on child pedestrian safety and the figures showed "how badly" children from the poorest backgrounds were being let down.
"The government needs to make it a priority to make our streets safer for children to get out and about on foot and bicycle, which is good for their health and social development, by making 20mph the default urban limit, and ensuring speed limits are enforced," she added.
Road Safety Analysis said the real level of risk was likely to be even higher than reported because its study only analysed the number of crashes reported to police.
Related Internet Links
The BBC is not responsible for the content of external sites.