Pakistan floods global aid 'pitiful' - Clegg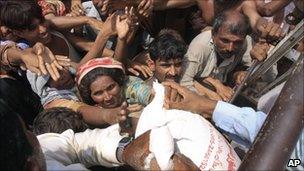 The international response to the devastating floods in Pakistan has been "absolutely pitiful", Deputy Prime Minister Nick Clegg says.
He said the UK was "doing a lot", but donations may still be less than hoped for because the public was "struggling to understand" the scale of the crisis.
Mr Clegg spoke as the Disasters Emergency Committee (DEC) said the total raised by Britons was now £15m.
At least 1,600 people are known to have died in the monsoon floods.
The Pakistani government says up to 20 million people have been affected and some six million are estimated to need urgent food aid.
Aid agencies say survivors, especially children, were also at risk from diseases such as cholera.
Last week, the United Nations launched a $459m (£294m) appeal for emergency aid for Pakistan, and said that billions of dollars would be needed in the long-term.
The UK government has pledged £31.3m, nearly £17m of which has so far been allocated.
Speaking at a question-and-answer session in London on Monday, Mr Clegg said: "About close to one quarter of the aid already devoted to Pakistan has come from this country.
"The response from the international community as a whole, however, I have to say, bluntly, has just been lamentable. It's been absolutely pitiful."
Speculating on why donations had been lower than for previous appeals such as the Haiti earthquake in January, the deputy PM added: "One of the reasons may be because this is a disaster on a scale that people are struggling to understand.
"The flooded area is the same size as England."
The DEC said some 600,000 survivors had been provided with emergency care, clean water, food or shelter thanks to UK donations.
But chief executive Brendan Gormley said more money was urgently needed.
"Funds are continuing to pour in thanks to the generosity of the British public, but with the Pakistani government's announcement that 20 million people are now affected, the need is growing.
"With floodwaters now spreading in the Sindh province, and hundreds more villages being flooded, the situation for millions of people in Pakistan is worsening.
"We are also very concerned about the report of a cholera case in the Swat valley."
The DEC is an umbrella organisation of 13 UK humanitarian aid agencies - ActionAid, Age UK, British Red Cross, Care International, Cafod, Christian Aid, Concern, Islamic Relief, Merlin, Oxfam, Save the Children, Tearfund and World Vision.
Related Internet Links
The BBC is not responsible for the content of external sites.