MoD 'negligent' over Terry Jupp bomb death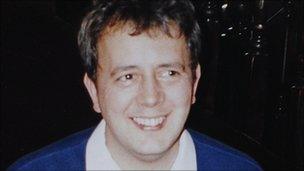 An American counter-terrorism expert has attacked a former leading British scientist over the death of one of his staff in secret explosives tests.
Terry Jupp died in 2002, after a highly classified Anglo-American bomb test went disastrously wrong.
The scientist, known only as Witness E, said the death need not have happened.
He accused a former Ministry of Defence scientist, Dr Maurice Marshall, of failing in his responsibilities towards Mr Jupp and others.
Mr Jupp, 46, was part of the UK's Defence Science and Technology Laboratory.
He was engulfed in a fireball as he prepared to test homemade bombs that could be used in terrorism. He died six days later in hospital.
Mr Jupp's inquest was delayed for eight years because of complicating factors including criminal charges against two of his managers, one of whom was Dr Marshall.
The Crown Prosecution Service dropped a charge of gross negligence against Dr Marshall and a judge threw out the case against his colleague. Dr Marshall has since retired from the Ministry of Defence.
But in a statement read to the inquest, Witness E described being yards away from Mr Jupp when the accident happened on a firing range near Shoeburyness in Essex.
In the aftermath, Witness E said he discovered that Mr Jupp had been mixing a bomb with a classified substance, code named "A". This substance had not been on the agreed list of chemicals for that session of trials.
"I felt very angry," said E in his statement. "It was totally wrong, unacceptable and downright negligent.
"If I had been asked to do this particular test, I would have categorically refused to do so. I was very angry that Terry died the way he did. This was an avoidable accident.
"To carry out untested live experiments on dangerous chemicals … is very cavalier and unforgivable.
"During this trial, I consider that Dr Maurice Marshall to be responsible for the safety of the individuals on the trial. I feel that he failed in his responsibility."
Witness E, like all the American team, has refused to appear in person and cannot be cross-examined by lawyers for Dr Marshall.
His statement listed a variety of concerns he said he had with the way the British team approached safety.
He said that the US tests were conducted under "stricter controls" that included no deviation from the agreed list of chemicals to be used in improvised explosives.
He said that when he came to the UK, he was never sure who was in charge of the safety assessment and felt that the building used to mix bomb ingredients would not have been considered suitable for use in the US.
The inquest at Southend-on-Sea continues.