Dr David Kelly death not Cluedo game, pathologist warns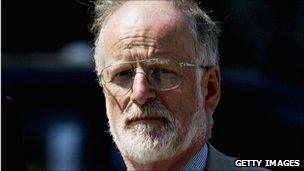 The death of weapons expert Dr David Kelly is "not a game of Cluedo" and individuals should not go on a crusade over it, a forensic pathologist says.
Andrew Davison wrote to the Times after a group of experts wrote to the paper on Friday urging a full inquest.
Dr Kelly, 59, died in 2003 after he was exposed as the source of a BBC story on the grounds for going to war in Iraq.
They experts called the cause of death - blood loss after he cut his wrist - given by the Hutton Inquiry "unlikely".
The eight medical and legal experts argued that a severed ulnar artery, the wound found to Dr Kelly's wrist, was unlikely to be life-threatening unless an individual had a blood clotting deficiency.
The former Conservative party leader Michael Howard on Sunday also raised doubts over the official cause of death, saying there were serious questions which should be answered.
But in his letter to the Times on Monday, Mr Davison wrote: "This is not a game of Cluedo and it is beginning to look suspiciously like a crusade for some."
He pointed out that none of the group who wrote to the Times described themselves as practising autopsy pathologists.
Therefore "whether the individuals are experts in the relevant field might be open to question," he said.
He added: "The lack of relevant pathology expertise is illustrated by the comment questioning the absence of a 'quantitative assessment of the blood lost and of the blood remaining in the great vessels'.
"At an outdoor scene such as a wood where blood can seep away into the ground, I would not expect to be able to make an accurate estimate of blood lost, and there is no way of measuring the blood remaining in the great vessels post mortem."
He goes on to urge the signatories to think of Dr Kelly's family, writing: "If they [Dr Kelly's family] are content with the outcome of the Hutton inquiry, should that not be the end of the matter?"
Dr Kelly's body was found near his Oxfordshire home after he was exposed as the source of a BBC story on the grounds for going to war in Iraq.
Instead of a coroner's inquest, then Prime Minister Tony Blair asked Lord Hutton to conduct an investigation, which found Dr Kelly died from blood loss after slashing his wrist with a blunt gardening knife.
Michael Gaunt, a consultant vascular surgeon, described Dr Kelly's death as a "fairly typical" suicide and said Lord Hutton's conclusion was the "most reasonable" one.
He told BBC Radio 4's PM programme: "There's always doubts over a large number of people's deaths.
"What strikes me is that, unfortunately, this is a fairly typical - if I could use the term 'messy' - suicide, typical of somebody who is desperate.
"It's not logical and it could well have failed, this attempt. Therefore this rings true to me of real life, because if there was a conspiracy and someone was wanting to make it look like suicide, I'm sure they would do a much better job than what was achieved."
Friday's letter to the Times was signed by former coroner, Michael Powers, former deputy coroner, Margaret Bloom, and Julian Bion, a professor of intensive care medicine.
It prompted Michael Howard, now a Tory peer, to tell the Mail on Sunday: "In view of the growing number of relevant questions that have arisen and cast doubt on the conclusions reached by Lord Hutton, I believe it would now be appropriate for a full inquest to be held."
Mr Howard led his party at the time the government scientist's body was found.
Related Internet Links
The BBC is not responsible for the content of external sites.