Wheel clampers face private land ban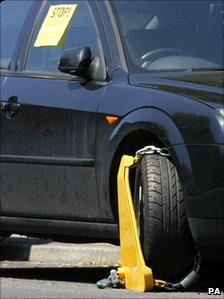 Wheel clampers are to be banned from operating on private land in England and Wales, the government has said.
The legislation, to be introduced in November, will introduce penalties for anyone clamping a vehicle or towing it away on private land.
Minister Lynne Featherstone said motorists had faced "unscrupulous tactics" by some firms for too long.
Motoring groups welcomed the news, but parking firms said regulation rather than a ban was the answer.
In one case on Monday, a nurse was clamped while visiting a patient and told to pay £350 to get her car released, with another £50 charge for every hour she delayed payment.
The planned legislation, announced by the Home Office, will be introduced in the government's Freedom Bill in November.
More than 2,000 existing clamping licences will be revoked as a result, with towing also set to be outlawed, but private firms will still be able to ticket parked cars.
Only police or councils will be allowed to immobilise or remove a car in exceptional circumstances, such as a vehicle blocking a road.
The penalties could include fines or jail terms.
Wheel clamping on private land has been outlawed in Scotland since 1991, but will remain legal in Northern Ireland.
Announcing the ban, Ms Featherstone, the Equalities and Criminal Information Minister, said the government was "committed to ending the menace of rogue private sector wheel-clampers once and for all".
"Reports of motorists being marched to cash points or left stranded after their car has been towed are simply unacceptable," she said.
Regional and local transport minister Norman Baker said "cowboy clampers" had had "ample opportunity to mend their ways, but the cases of bullying and extortion persisted"
Lawyer Nick Freeman, who specialises in motoring law, said: "For a long time this has been nothing but an unregulated racket operated mainly by unscrupulous cowboys, with some people making a lot of money from the misfortune of others.
"For motorists who fall foul of this unfair practice, they have no choice but to pay an extortionate release fee and they have no redress other than through the county court, which the vast majority of people don't pursue."
Professor Stephen Glaister, director of the RAC Foundation, warned that getting rid of clamping would not end disputes about parking on private land.
There needed to be a fair system that found the right balance between protecting motorists and landowners.
He said some operators had already turned to issuing penalty tickets rather than using clamps and the law needed to recognise a "growing form of enforcement".
Currently, wheel clampers and the directors and supervisors of clamping companies must hold a licence granted by the Security Industry Authority (SIA).
Patrick Troy, of the British Parking Association, which represents the parking industry, said a ban on clamping was not the solution.
He said he would prefer company licensing with a code of practice covering issues such as maximum recommended charge for clamp release fees, the amount of signage, "all the things which quite rightly upset the public about the way car parks are managed".
Related Internet Links
The BBC is not responsible for the content of external sites.