Coalition's difficulties in defence
By Caroline Wyatt
Defence correspondent, BBC News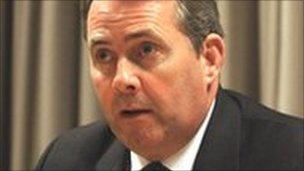 The coalition is in a difficult position on defence. It inherited an unpopular war in Afghanistan, as well as a black hole in the defence procurement budget of some £37bn of equipment - ordered over the next decade without the guaranteed funding to pay for it.
The war in Afghanistan has dominated the first 100 days, with more deaths and injuries among British troops during this summer's fighting season.
Defence Secretary Liam Fox's assertion that Afghanistan was a "broken 13th Century country" provoked a row during the coalition's first trip there, ruffling feathers in Kabul.
And the manner of his announcement that Air Chief Marshal Sir Jock Stirrup would stand down sooner than expected was said to have irritated Number 10, when it emerged during an interview with a newspaper.
However, the coalition has been united on the need to begin withdrawing British troops from Afghanistan.
On his visit to Washington, Prime Minster David Cameron said British troops would finish combat operations in Afghanistan by 2015, with some forces beginning a phased withdrawal as early as next year, when the first US troops may start their withdrawal if the conditions are right.
One of the coalition's first moves once in office was to fulfil its promise to double the operational allowance for service personnel on operations abroad, as well as ensuring that more servicemen and women could receive campaign medals.
The tax-free allowance rose from £14.51 per day to £29.02, meaning that British forces should receive just over £5,000 for a six-month tour.
But tough and deeply divisive decisions lie ahead, and will have to be made soon as part of the strategic defence and security review (SDSR), due to report in October.
The defence budget is far from immune from the cuts, with the defence secretary promising an unsentimental look at what needs to be done to cut between 10% and 20% from annual defence spending.
He has promised fewer civil servants and senior officers, to ensure enough money is devoted to the front line, although far more than that will have to go if the sums are to add up.
The result of the SDSR is likely to be a much smaller force, with the RAF expected to bear the brunt of cuts - perhaps retiring its Tornado fast jets earlier than planned, scrapping the Nimrod MRA4 and losing up to 7,000 personnel.
The Royal Navy will not be immune either. It may have to give up some submarines and surface ships, while despite current operations in Afghanistan, the Army may have to give up most of its tanks, and perhaps lose at least a brigade of soldiers.
"The coalition inherited a defence budget that was over-committed," says Dr Paul Cornish, head of the international security programme at Chatham House.
"I think there is a possibility that the defence review will be constructed in such a way that after the SDSR, the Armed Forces will never be able to do an Iraq or Afghanistan again.
"In a way that is fine - as long as we don't have to do something like that again," he warns.
"But if there is a need to do something similar, we may then find ourselves in a pretty sticky position."
He says the choice facing the Ministry of Defence is stark, and will reshape the UK's Armed Forces in one of two ways: either producing balanced Armed Forces able to undertake a broad range of tasks and commitments, as in the past, or forces which specialise, but lose their broader capabilities.
Coalition divisions are also looming over the Trident nuclear deterrent. Its replacement will cost at least £20bn to build. But Deputy Prime Minister Nick Clegg says that spending "huge, huge" sums on Trident would make it harder for ministers to justify cuts to welfare and other areas.
The cost of fully replacing the ageing submarine-based system has already prompted a "conversation" between the defence secretary and the chancellor over whose department should bear the cost of the build, which the previous Labour government had promised would be paid for outside the annual defence budget of around £40bn.
Mr Clegg's comments suggest that the differences of opinion between the Tories and the Liberal Democrats over Trident, which prompted one of the sharpest exchanges during the televised leaders' debates, have yet to be resolved.
Related Internet Links
The BBC is not responsible for the content of external sites.