Welfare cuts speculation fills newspapers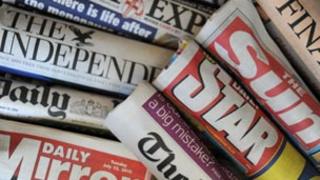 Speculation over government plans to cut the welfare system feature in many of the papers.
The Times says reductions in child benefit, winter fuel payments and other allowances would prompt claims David Cameron was breaking election pledges.
The Daily Mail declares a "bonfire of the middle class benefits".
But a senior official tells the paper the case for ending universal state handouts is unanswerable, as "the well is dry".
Pensioner alarm?
The Daily Telegraph reports that older people may have to wait an extra six years before they receive winter fuel payments.
It says ministers have resolved to increase the qualification age from 60 to at least 66 - and talks are under way to raise it still further.
The Daily Express says the move would cause alarm among pensioner groups.
Age UK tells the paper the chancellor would be breaking his word if the payment was axed.
Coalition's 100 days
On the 100th day since the coalition took office, many papers take the opportunity to look at its progress.
The Guardian leads with a poll which suggests voters support austerity measures to reduce the budget deficit.
In the Sun, the PM says the government has to take difficult decisions while it has the goodwill of the public.
While in the Financial Times, Labour leadership candidate David Miliband lambasts the coalition for being "anti-business".
Facebook followers
The Independent leads with "the fears for the Facebook Generation", harboured by the chief executive of Google.
The paper says Eric Schmidt has issued a stark warning about personal data people leave on the internet.
Meanwhile the Times and the Mail report on research into how having brothers affects a girl's development.
The Mail says boys keep their sisters "on the straight and narrow" by stopping them from growing up too quickly.