Ex-miners claim injuries were under-compensated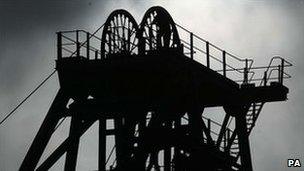 A group of former miners who suffered industrial injuries are claiming they received inadequate compensation from a government scheme.
Leeds County Court will hear claims from about 20 ex-miners against several law firms who originally advised them.
The men have "vibration white finger" - a condition that causes pain or numbness - and are pursuing payments to cover tasks such as gardening and DIY.
The government has said the scheme was administered fairly.
The Department of Energy and Climate Change, which administers the scheme set up a decade ago, said ex-miners who were aggrieved could take their cases to the Legal Complaints Service or consult another solicitor.
Success in these cases could open the way for about 50,000 further claims, said the solicitor handling the Leeds cases, Rob Godfrey.
The miners' former solicitors made claims under a government compensation scheme, which was designed to ensure they would not have to go to court, and that awards would be fair and consistent.
BBC legal affairs analyst Clive Coleman said it had since emerged that some ex-miners were under-compensated for the "services" they could no longer provide for their families, such as gardening, car-washing, window-cleaning and DIY.
Individual claims range from a few thousand pounds to up to £25,000 for younger victims, who would receive the annual payment for longer, he said.
The government scheme was set up to compensate former miners for two types of injury - lung disease from breathing in coal dust and vibration white finger, a condition caused by working with vibrating machinery such as chain saws and drills.
The UK's biggest ever personal injury compensation scheme, it has paid out £4.1bn since it was set up.
Mr Godfrey, from solicitors firm Mellor Hargreaves, said the issue in these cases was that the lawyers providing the original service to the miners either gave no advice on compensation for services or the advice given "was either incorrect or quite possibly misleading".
A number of the cases have been settled out of court, while some of the legal firms are contesting the claims.
Clive Coleman said one of the possible factors in the cases was that pursuing the services aspect of the claim had required additional questioning and it was time-consuming and expensive work, with "little financial incentive for the solicitor to do it".
In recent years there has been huge controversy surrounding the miners compensation scheme, which involved some solicitors deducting fees from claimants when they were already being paid under the scheme.
The Legal Complaints Service reported at the end of last year that it had helped to recover more than £3.6m of "inappropriate deductions" from the law firms concerned, and the money had been returned to former miners and their dependants.
A number of solicitors made millions from the scheme and were subsequently struck off.
Related Internet Links
The BBC is not responsible for the content of external sites.