Are level crossings safe enough?
By Vanessa Barford
BBC News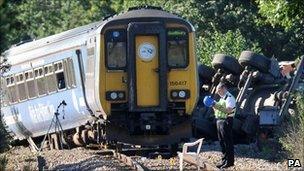 A passenger is in a critical but stable condition after a train collided with a sewage lorry on a level crossing in Suffolk on Tuesday. But how common are accidents at level crossings, and what can be done to reduce them?
Accidents at level crossings are not unprecedented.
In 2009, teaching assistant Moira Koune, 30, of Spalding, Lincolnshire, died as she tried to reverse her car out of the path of an oncoming train after she skidded onto the track in icy conditions.
The year before, Margaret Thomson, 83, was struck by a train at Leys Lane level crossing in Attleborough, Norfolk.
And in 2005, 14-year-old schoolgirls Charlotte Thompson and Olivia Bazlinton were killed by a train on a level crossing in Essex as they crossed the tracks on foot.
So how common are accidents at level crossings?
Network Rail said in 2009, there were 14 collisions between vehicles and trains, which resulted in 13 deaths.
But a spokesman said there were 3,244 reported instances of "misuse or error", adding that the unreported figure was estimated to be far higher.
Network Rail, which manages about 7,000 level crossings on private and public land, says they are "completely safe if used correctly".
But the spokesman said the company had "long campaigned... for the closure of a legacy that had been handed over from the Victorian era... because fundamentally, we'd like to take human risk out of the mix".
"We closed about 400 last year. Ideally, we don't want a road and rail interface at all," he added.
According to the National Union of Rail, Maritime, and Transport Workers Union (RMT), level crossing closures are not happening fast enough.
Last year, it said all level crossings were unsafe and called for them to be scrapped and replaced with bridges or underpasses over a period of 10 years.
Reacting to the latest collision, RMT general secretary Bob Crow said it had been "avoidable... because the time was long overdue for a programme to eliminate level crossings from Britain's railway network".
"On Network Rail's own figures it would cost an average of £1m to replace each level crossing with an underpass or road-bridge - that's about half the cost of a mile of motorway.
"Level crossings are a 19th century solution - in the 21st century it is high time for a commitment to separate rail and road traffic," he said.
In July, the Law Commissions of England and Wales, and of Scotland, launched a consultation on level crossings, saying they "represented the largest single risk of catastrophic train accident on Britain's railways".
It said the current law on level crossings was "complex, outdated and difficult to access, creating problems for regulators, owners and operators and increasing the safety risk for users".
At the time, Sir James Munby, the chairman of the Law Commission said "it was time bring level crossing law into line with modern legislation", rather than the current "19th century private legislation" it was based on.
Professor George Gretton, of the Scottish Law Commission, said crossings caused "very real problems" for railways and road users.
So what type of level crossings currently exist?
The Office of Rail Regulation (ORR) said there were about 16 types of level crossing in the UK, but they broadly fell into two types:
Protected (active) crossings - where a driver or pedestrian is warned of a train's approach by the closure of gates or barriers, lights, or noises
Unprotected (passive) crossings - where there is no obvious warning other than the train driver's horn
It said at every unprotected crossing, instructions for safe use and signs had to be provided. But a review of the guidance for level crossing design was under way.
Network Rail said the main factors which dictated the kind of level crossing were train and crossing user frequency.
It said the latest accident in Suffolk was at a "user worked crossing", on private land, where a sign would have signalled that someone should not cross until they had rung the signaller for permission.
The company said of the 7,000 level crossings, 4,000 of them fell into this category - the "vast majority" of which were on farm land.
Peter Garbutt, the National Farmers Union's transport and inputs adviser, said crossings were of "vital importance" to some farmers because it "allowed access to farmland and in some cases the farmyard itself".
But he said the Union provided "full advice" to members on level crossing procedures and safety provisions.
A spokesman for the Royal Society for the Prevention of Accidents, said it was "vital" that road users followed the safety rules at any given level crossing.
"At crossings without barriers, even if the track looks clear, remember that trains can appear very quickly without warning. It is simply not worth taking the risk to cross without following the safety guidance," he said.
"Any impact between a vehicle and a train is quite likely to be devastating. Road users should remember that train drivers cannot swerve or brake as suddenly as other vehicles can in an emergency stop."
Related Internet Links
The BBC is not responsible for the content of external sites.