Pakistan's floods: A community fights back
By Perminder Khatkar
BBC Asian Network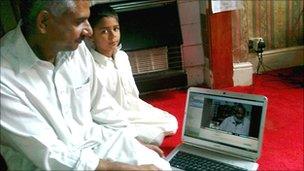 I've just spent a weekend with Birmingham's Pakhtun community in Alum Rock and Bordsley Green. Living in Victorian terraced houses, this is a community that's very traditional and religious.
Men in traditional shalwar kamiz are seen on the streets. Their women are, by and large, "traditional housewives and it's the men who do all the talking and are in the forefront", Lajbar Khan, who became my link into the Pakhtun families and who I followed all weekend, told me.
I was given exclusive access to the families affected by the flood devastation in Pakistan, the seldom heard Pakhtun community.
As someone who has reported and made programmes about the various Asian communities for almost 20 years and as a Brummie, I thought I knew about most South Asian communities but on the first day I, an Asian woman of Punjabi origin, felt like a foreigner.
Their language was different - they spoke Pashtu - and by and large they keep themselves to themselves.
The Pakhtun or the Pashtun community are all from the same region - they use one term or the other depending on what dialect you use.
Our first stop was outside the local mosque in Alum Rock. I'd come prepared, got my headscarf, but in this mosque where many Pakhtuns attend no women were allowed in.
On their way out what I did face were angry locals and the moment they saw I had a microphone they were quick to voice their concerns.
One 21-year-old told me: "We cannot make contact with our family - the government and the politics, it's all rubbish."
And this set the scene. Everyone I came across had no faith in the Pakistani government to deliver aid and help those that needed it, so now they were taking things in their own hands, taking their own steps and using their own contacts, family and friends to send money.
Almost all cited the 2005 Kashmir earthquake as an example of where they did not believe all the aid collected went to victims.
Student Afsa Shah told me: "I've seen it with my own eyes, five years on from the earthquake, people are still living in tents. Millions was raised. It was more than enough to help all the people."
A few streets away, Lajbar took me to meet a friend who was still coming to terms with his family's loss.
Riaz Khataq said: "My own family have lost three boys and one girl, four to eight years old.
"It's heartbreaking to lose them, not able to find their bodies. One cannot comprehend how hurtful it is not to see your children again.
"Six days of no communication with close family. But now we have heard the rest of the family are living in one of the camps set up.
"There are cramped, tense conditions in the camp, separating women and children from men. No medical facility has been provided from the Pakistan government side."
His story is just one of many. There are hundreds more with even more tragic accounts, says Lajbar.
According to Lajbar, 8,000 Pakhtun families live in the Birmingham area and all of them are affected by the floods in Pakistan.
However, this cannot be verified as Birmingham City Council does not keep records of the Pakistani community broken down by region.
But what we do know is that 113,000 Pakistanis live in the Birmingham area, according to the Office for National Statistics.
The Pashtuns first arrived in Birmingham in the 1960s and for many years were regarded as a hidden community.
"Our country was not ready for this scale of floods; I have never seen devastation like this. It's not a strong economy," Lajbar told me.
Our next stop was with another associate of Lajbar - he's known in the community as the "mini millionaire", one of the few Pakhtuns who has done well in business.
Afza Khan told me he has collected from friends and made large donations himself - £10,000 so far.
"There is no trust within the Pakistan regime as far as funds and donations are concerned in regards to giving those funds to the right people. We know who to give to and we can make sure it gets to the right people."
He told me he has sent £5,000 over to a friend who has managed to buy bags of flour and milk cartons and this will be distributed to 500 families.
We went to the home of taxi driver Hassan Khan on Banks Road. Forty members of his immediate family were affected by the floods in one village.
"We've been trying all day but while you've been here we are lucky we are able to connect with my family."
He became emotional as he spoke to his father, who said he was fine, through an internet video messaging service.
The will to give is there but according to Lajbar, 80% of the community is unemployed.
He took me to Mr Durrani's house. Unemployed, a father of six, he's been living Birmingham for 13 years.
He came over to make a better life but his entire village has been affected. Almost all the houses have been destroyed and his wife has lost her first cousin.
He has managed to send £1,000 from the few savings he had, but mostly from kind neighbours and friends who wanted to help him and his family.
But he says: "That's nothing, there are 600, 700 families that need help."
Pakistan's Floods: A Community Fights Back will be broadcast on BBC Asian Network on Wednesday 18 August at 1800 BST.