Tomlinson pathologist 'not qualified' for G20 case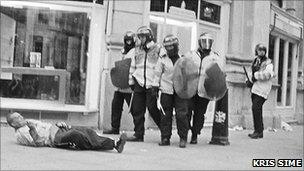 The pathologist at the heart of the decision not to prosecute over the death of a man at the G20 protests should not have been registered to investigate suspicious deaths.
Dr Freddy Patel, 63, appeared on a Home Office register despite failing to meet its criteria, the BBC has learned.
Ian Tomlinson collapsed and died minutes after being pushed by a police officer. Dr Patel said he died from coronary artery disease.
But two other doctors disagreed.
Instead, they concluded that newspaper seller Mr Tomlinson, 47, had suffered internal bleeding, probably from his own elbow hitting his liver after he was pushed to the ground.
In July, the Crown Prosecution Service said it could not bring a charge of manslaughter against PC Harwood due to the conflict in evidence.
The Home Office Register of Forensic Pathologists is a list of doctors accredited by the Home Office to perform post-mortem examinations in cases of suspicious death.
To appear on the register, a pathologist must work alongside other pathologists as part of a group practice and they must have an official arrangement to work for at least one police force in England and Wales.
Dr Patel's practice has not had an arrangement with any police force since 2004 and he has not worked as part of a group practice since 2006.
The Home Office Register is maintained by the National Policing Improvement Agency.
In a statement, the Agency said: "Although police and coroners are not obliged by law to instruct a forensic pathologist on the Home Office Register, it would be most unusual not to do so and could adversely impact on a prosecution."
The BBC asked the Home Office why Dr Patel had not been removed from the register when he did not meet the conditions of registration.
A Home Office statement said: "The requirement to be a member of a practice was introduced in 2006 as part of a programme of improvements. Safeguards were introduced to ensure those providing services to the police were maintaining the required standards.
"These would have identified pathologists who were working but not part of a practice. However, where a pathologist was not working for the police the safeguards would not have identified a problem."
Dr Nat Cary, who performed the second post-mortem examination on Mr Tomlinson, said making pathologists work in groups meant their work was checked by their colleagues.
"People have to work in groups and this avoids the opportunity for baseline drift of people's practice. They also have to be involved in peer review, so checking one another's reports to make sure, in particular, that the evidence of fact is consistent with the conclusions," he added.
Dr Patel was the first pathologist to examine Mr Tomlinson and concluded he had died from natural causes due to coronary artery disease.
Two other pathologists, Dr Cary and Dr Kenneth Shorrock, concluded at subsequent post-mortem examinations that Mr Tomlinson died from internal bleeding following an injury to his abdomen, in combination with cirrhosis of the liver.
In his first report Dr Patel recorded that he found three litres of "fluid blood" in Mr Tomlinson's abdomen. In a second report, produced a year later, Dr Patel used a different form of words, stating that he had found three litres of "fluid with blood".
The conclusions of the second and third post-mortem examinations depended on Dr Patel's initial findings. None of the fluid in question was retained by Dr Patel for later examination.
Director of Public Prosecutions Kier Starmer said the case collapsed due to "an irreconcilable conflict between Dr Patel on the one hand and the other experts on the other as to the cause of [Mr Tomlinson's] death."
Professor Sebastian Lucas, head of histopathology at King's College London, said Dr Patel's history meant he was unsuitable for a case so much in the public eye.
"It's a high-profile death and the pathologist appointed to do it was not up to the mark. Cases that are high-profile, with public interest, really do need to be done by people who will do a first-class job, the first time around, without second or third examinations.
"Dr Patel's track record doesn't include those characteristics."
Dr Patel is currently being investigated by the General Medical Council at a fitness to practise hearing.
He faces charges of misconduct and deficient professional performance in relation to four other cases unrelated to Mr Tomlinson's death.
Related Internet Links
The BBC is not responsible for the content of external sites.