Twenty-fold rise in anti-terror hotline calls
By Rahila Bano
BBC Asian Network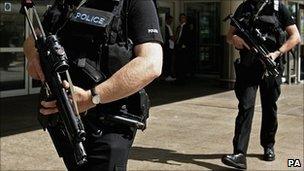 An anti-terror hotline took 20 times more calls last year than seven years ago, BBC Asian Network has learnt.
The line - set up after 9/11 to stop similar attacks in the UK - received 546 calls between 2002 and 2003, but 11,260 calls were recorded last year.
Police say this is partly down to radio and tv adverts raising the public's awareness of suspicious behaviour.
But campaigners say the adverts have labelled Muslim communities as terrorists - a claim the police deny.
Saleh Mamon, from the Campaign Against Criminalising Communities (Campacc) said: "This strategy has been extremely damaging to community relations, to social cohesion.
"It's a snooper's charter, do we really want to live an a society like that?
"The exposure the public has had over the years - you mention 9/11 and 7/7 and you see they are Muslims, so who are the public going to think of?"
But Acpo says the confidential phone line plays an important role in the fight against terror.
A spokesman said: "Terrorists will not succeed if people report something unusual to police they have seen while going about their daily lives.
"All information received is thoroughly analysed by experienced officers before and if any action is taken. No one is targeted because of their race, religion or culture."
Earlier this month the Advertising Standards Authority banned an advert for the hotline which suggested suspicious behaviour could include paying with cash and keeping curtains drawn.
It said the ad, broadcast on Talksport, could have caused "serious offence" to law-abiding people.
Related Internet Links
The BBC is not responsible for the content of external sites.