Papers consider A-level results and university places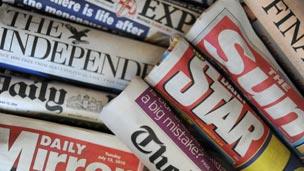 The battle for university places following the release of A-level results is widely reported in a number of newspapers.
The Times says the proportion of A* grades awarded to A-level students will be double that first predicted.
Both the Daily Mail and Daily Mirror lead with the killing of a 90-year-old WWII hero on his doorstep.
The Mirror says Geoffrey Bacon was murdered for £40 and an OAP bus pass.
The Mail reports that Mr Bacon, who was a former driver for Generals Montgomery and Eisenhower and a volunteer for special operations against the Nazis, was still fiercely independent.
The Times believes "a rift" has appeared in the coalition government over the appointment of billionaire businessman Sir Philip Green to advise on how to cut public spending.
It says Deputy Prime Minister Nick Clegg is facing demands from fellow Liberal Democrat MPs to review Sir Philip's tax arrangements.
It says he wants £60,000 per speech to discuss the financial crisis.
The Financial Times reports on Ofcom research that suggests the UK is increasingly a "nation of media multi-taskers".
The research suggests "a fifth of all media is consumed at the same time as another form of communication".
And a housing estate in Bradford is being "invaded" by giant rats that are appearing in the homes of residents, according to the Sun.
Related Internet Links
The BBC is not responsible for the content of external sites.