Cheaper accommodation 'would improve UK holidays'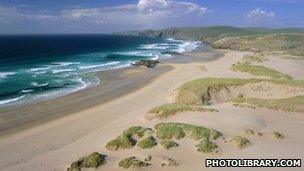 Better value accommodation is the best way to improve holidaying in Britain, a survey has found.
Nearly a quarter of people surveyed thought cheaper places to stay would make their "staycations" better.
Twenty-one per cent wanted cheaper train travel and 10% thought having fewer crowds at destinations would improve the British holiday experience.
Travel publisher Lonely Planet and travel agent Explore asked 3,500 people about their top travelling experiences.
For each question respondents were asked to choose from a shortlist drawn up by a panel including Lonely Planet co-founder Tony Wheeler.
Taking a third of the vote, Scotland's wild beaches topped the most under-rated British days out.
Visiting some of the UK's big cities in August when many locals are away on holiday was second, followed by fossil foraging on the Jurassic coast in Dorset.
Lonely Planet's Travel Editor Tom Hall said: "Days out in Britain don't have to be traditional seaside jaunts or tours of stately homes. Brits are fast discovering some of the country's lesser-known attractions."
The survey found British travellers also wanted to be adventurous abroad choosing the Mayan temples at Tikal in Guatemala as their greatest historical experience.
This was above better known locations such as the Taj Mahal and the pyramids in Egypt.
Those questioned thought the greatest journey would be taking the Trans-Siberian Railway from London to Beijing.
The carnival in Rio was picked as the event people would most like to attend in the coming year.
Mr Hall said the success of the lesser known attractions in the survey highlighted how worthwhile is it to "venture away from some of the world's best known places and discover what else the world has to offer".
The survey showed the least popular destination for British holidaymakers was an all-inclusive resort in Benidorm in August.
Other less desirable holiday locations were a visit to a bar in San Antonio in Ibiza and a trip to Madame Tussauds in London on a bank holiday.
Food and drink featured in the survey with a third of respondents giving Italian cuisine as their favourite, making it the most popular.
Eating steak in Buenos Aires was the most preferred food-place combination whilst the top drink-place combination was having a mojito in Havana.
If they were choosing to settle elsewhere people would most like to put down roots in Australia or New Zealand. The only UK destination in the top 10, the Lake District, came eighth.
BBC travel presenter and Monty Python comedian Michael Palin was picked as the ideal travel companion, followed by Stephen Fry and Joanna Lumley.
The full results of the survey will be published in the September edition of the Lonely Planet Magazine.
Related Internet Links
The BBC is not responsible for the content of external sites.