Text message helps save Mont Blanc mountain climbers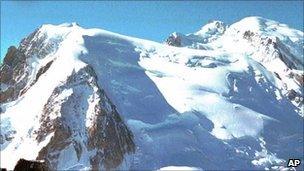 Two British climbers stranded 3,500m (11,500ft) up western Europe's highest mountain were rescued after texting a friend in their hometown of Shrewsbury.
Finn McCann and Tom Greenwood, 23, become trapped on the Italian side of Mont Blanc after a storm broke out on Wednesday afternoon.
Mr Greenwood dislocated his shoulder and they were forced to spend the night on the Aiguille Noire de Peuterey peak.
They told reporters their battery power ran out as they made a distress call.
Mr McCann told the Guardian the pair - who are experienced mountaineers - had left their Italian base camp around 6am. They used ropes to climb up the peak's south ridge route, with the trip starting off well.
But four hours into the climb, Mr Greenwood's left shoulder dislocated - something he had experienced before while weightlifting. It continued to work itself in and out and the men decided to try to reach the top of the mountain.
But heavy rain stopped them from doing so, the paper reported.
Mr McCann said: "We were worried about hypothermia and with two bars of battery between us we were really panicking."
They tried to contact the emergency services but were unable to do so and decided to text a friend back in the UK.
The friend contacted the rescue services on their behalf and kept them updated on the progress made.
In the phone call made to reporters after the rescue mission, Mr McCann said: "By now we were desperate, it was unbearably cold and we were risking hypothermia, stuck on a tiny ledge above a huge drop."
Two attempts to reach the pair were unsuccessful, but a helicopter managed to reach them during the third try and take them to the town of Courmayeur, at the bottom of the mountain.
An Aosta Valley Mountain Rescue Service spokesman said the men could not be rescued until the weather had improved.
Mont Blanc is western Europe's highest mountain and is a popular destination for mountaineers.
Related Internet Links
The BBC is not responsible for the content of external sites.