Dragon says Pakistan's flood victims need more aid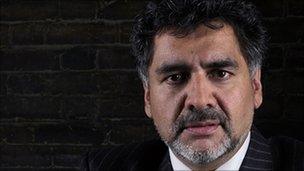 Dragons' Den star James Caan has called on the UK to provide more aid for the victims of Pakistan's floods.
The entrepreneur and panel member on the BBC show said the UK had done "better than most" but that more funds were vitally needed.
His comments came as former prime minister Gordon Brown said the international community had to improve its response to the continuing crisis.
Donations from the UK public to the Pakistan Floods Appeal now total £24m.
The appeal was launched by the Disasters Emergency Committee, an umbrella body that represents 13 of the largest UK aid agencies.
Mr Caan, who was born in Pakistan, said it was "beyond him" why the international community had so far failed to raise all the money required for food, shelter and medical supplies to help the victims of the floods.
"The reality of the situation is that when you've got 20 million people displaced, for the sheer volume of aid that's needed, we just haven't raised that much money," he said.
"I think the aid is getting through but not in the quantity needed."
Mr Caan and Mr Brown's warnings that not enough money has so far been raised for Pakistan have been shared by Deputy Prime Minister Nick Clegg.
Mr Clegg said earlier this week that the level of donations had so far been "absolutely pitiful".
The United Nations, which has now raised almost half of the £295m it says is needed for initial flood relief efforts, has also warned that the international response has been too slow.
The UK government has given £31m to help the victims of the Pakistani floods.
Mr Caan, who is due to fly out to Pakistan to visit regions affected by the floods, added that anyone withholding aid because of concerns about the country's links to terrorism was letting down innocent people.
"The country itself is one of the biggest victims of the 'war on terror'," he said. "They have lost more lives through terrorism than anyone else.
"To me this is not about politics. Whenever these tragedies happen, they affect the vulnerable - the poor, children, the elderly.
"These people are completely innocent. This is a natural disaster."
Related Internet Links
The BBC is not responsible for the content of external sites.