Oxfam welcomes UK doubling Pakistan flood aid to £60m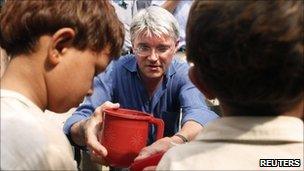 Aid charity Oxfam has welcomed the doubling of British government flood relief for Pakistan from £30m to £60m.
International Development Secretary Andrew Mitchell said the UK would help Pakistan during this "emergency phase".
Oxfam chief executive Barbara Stocking said: "Britain has a long shared history with Pakistan and it's right that we are coming to its aid at this time of great need."
An estimated eight million people are now said to be in need of assistance.
Mr Mitchell made the pledge at the United Nations headquarters in New York where he was attending an emergency session about the disaster.
He told the BBC he had seen for himself, when he visited Pakistan on Wednesday, how the UK's aid was being used to help the relief effort.
But Mr Mitchell added the international community did need to do more.
He said: "Seeing for myself the awesome destruction of this wall of water, 12 feet high, was an awful experience.
"And to see the people and meet the people there who had lost everything underlines why it is so important now that the international community comes together and does, as it undoubtedly has the ability to do, make a real difference now to people in Pakistan."
'Leadership and generosity'
Ms Stocking said: "It is good to see the UK government is doubling its aid to Pakistan and at the forefront of the aid effort.
"The UK has shown great leadership and generosity. We need to see this replicated by other donors across the globe."
The United Nations says it has raised a little over half of the $460m (£295m) wanted for initial relief but the response remains slow.
But Mr Mitchell said: "However slow it's been so far, we now need a meaningful set of strong offers from the wealthy world to help Pakistan in its desperate plight.
"We have already dispensed nearly $50m, that's about £30m and I have come here to announce that in support of the UN appeal, Britain will double that to £60m [which is] nearly $100m dollars."
He urged people to continue donating to the Disasters Emergency Committee appeal, which has raised £24m so far, and stressed that the money was getting through to those in Pakistan who really needed it.
"Britain can have confidence that our taxpayers' money and also the great generosity that's being shown by Britain through the Disasters Emergency Committee appeal really is reaching people who are desperate," he said.
"It's reaching them rapidly - we're going to scale it up. And everyone can have confidence in Britain that this is really getting through to those who are most in need."
In a statement later issued by the Department for International Development, he said: "The UK is already helping more than three million people in flood-affected areas.
"This doubling of our aid should now provide water and sanitation to 500,000 people, shelter to 170,000 people, help meet the nutritional needs of 380,000 people, and provide enough health services to cover a population of 2.4 million people."
During a visit to a mosque in Glasgow on Wednesday, former Prime Minister Gordon Brown said: "There simply must be a better response from the international community to prevent the spread of disease in areas affected by the floodwaters.
"The action to date has not been commensurate with the scale of the crisis in Pakistan.
"The long and strong relationship between Pakistan and Britain means there are many people here with relatives who are suffering at home".
Pakistan-born businessman and Dragons' Den celebrity James Caan has said he could not understand why it was taking so long for the international community to raise the amount needed to help those in dire need.
As he set off to visit the country, Mr Caan, who is also the chairman of British Pakistan Foundation, said the disaster had been a "time bomb" waiting to go off.
"The fact that people are unable to raise the money required even for basic life-saving aid from a humanitarian point of view is beyond me," he said.
"The reality of the situation is that when you've got 20 million people displaced, for the sheer volume of aid that's needed, we just haven't raised that much money."
He said that although he believed some aid was getting through, the quantity had to increase.
"Is it a monetary issue to do with fundraising, or is it a logistical issue?
"We need to take action. Sitting and watching the TV news reports and feeling sorry for them is not going to save lives."
If you would like to make a donation to help people affected by the floods in Pakistan, you can do so through the UK's Disasters Emergency Committee at www.dec.org.uk or by telephone on 0370 60 60 900.
Related Internet Links
The BBC is not responsible for the content of external sites.