Church minister Robert Dando faces US child sex charges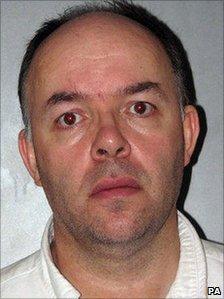 A British Baptist minister has been charged with child abuse in the US.
Robert Dando, 46, from south-west London, has been charged with attacking two boys in Fairfax County, Virginia.
Fairfax County Police Department said Mr Dando, of Sherbrooke Way, Worcester Park, had been charged with four counts of aggravated sexual battery.
The Baptist Union of Great Britain said Mr Dando had resigned as the senior minister at Worcester Park Baptist Church with immediate effect.
A spokeswoman for the body said: "The Church and his family would welcome some space at this difficult time."
Meanwhile, a spokeswoman for Fairfax County Police Department said in December 2009 a 21-year-old approached them claiming to have been the victim of sexual abuse.
The man, who was between eight and 13 at the time of the alleged abuse, said he was "assaulted by a visiting family friend between 1995 and 1999, in a private residence in Fairfax County".
A police investigation led to the discovery of a second alleged victim, now aged 17, who claimed he was abused under similar circumstances when he was about seven or eight.
"The suspect was arrested on July 23 and is a resident of the UK, who was travelling here, in Fairfax County," said the police spokeswoman.
Related Internet Links
The BBC is not responsible for the content of external sites.