Papers report on US combat troops pulling out of Iraq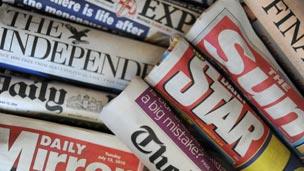 The withdrawal of US combat troops from Iraq is widely reported and commented on in Friday's newspapers.
Meanwhile, the Independent's front page features the headline "Goodbye to Iraq" and an image of two US soldiers running towards the Kuwait border.
The Daily Telegraph marks the first anniversary of the release of Lockerbie bomber Abdelbasset Ali al-Megrahi.
The Daily Mail says high street lenders are refusing to pass on the full benefit of historically low interest rates to customers.
David and Victoria Beckham have sacked 14 of their staff as part of a money-saving drive, according to the Sun, which put the story on its front page.
The Daily Express, quoting German aristocrat Eduard Prinz von Anhalt, predicts Prince William and Kate Middleton will marry next summer.
It says if the deal goes through it will make him only the sixth player to move from Arsenal to their north London rivals.
Meanwhile, the Daily Mail reports on the demise of Lassie, Patch and Rover as more and more dog owners "go posh" when naming their pets.
Related Internet Links
The BBC is not responsible for the content of external sites.