Councils 'could cut 500,000 jobs and not harm services'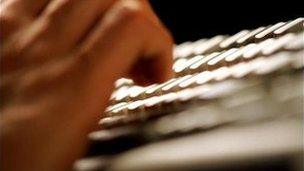 The UK's councils could do the same amount of work with 500,000 fewer staff if they matched the productivity of private firms, a report has claimed.
Junior staff in local authorities were, on average, productive only 32% of the time during working hours, said management consultancy Knox D'Arcy.
It said this compared with an average of 44% in the private sector.
Public sector union Unison said the study was "misleading, unrepresentative and unhelpful".
Knox D'Arcy, which carried out 1,855 workers' surveys, said firms had better systems to ensure targets were met.
"Put simply, by matching average private sector staff utilisation levels, local government could increase its productivity by roughly a third," said Paul Weekes, the report's author and principal consultant at Knox D'Arcy.
"This sort of dramatic increase would help significantly offset the cuts that are on the agenda as part of the Government's austerity package."
Dave Prentis, Unison general secretary, said the Knox D'Arcy report "flies in the face of evidence on public sector productivity", which he said had been rising since 2006.
"It is a red herring to compare private and public sector productivity," he added.
"How can you measure the productivity of a care worker and compare it with a car worker on a production line?"
John Ransford, chief executive of the Local Government Group, which comprises six organisations representing English and Welsh local authorities, said councils were "continuing to make better use of their staff".
He added that it was working with councils on a new national productivity programme.
"This drive for improved efficiency will ensure that new ways of working will be in place as soon as possible, so the frontline services on which people depend will not be damaged," he said.
Mr Ransford added that local authorities were already "achieving efficiency savings year-on-year".
He further said that the Local Government Group had already set out to the government a programme of reform that could "deliver billions of pounds worth of savings by axing costly middlemen and stripping away unnecessary bureaucracy".
Related Internet Links
The BBC is not responsible for the content of external sites.