Crash scam figures at record high, insurers warn
By Ben Ando
BBC News crime reporter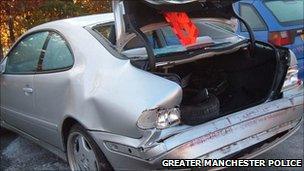 "Crash for cash" scams where fraudsters stage accidents to claim on other drivers' insurance are at an all-time high, the BBC has learned.
The Insurance Fraud Bureau (IFB) estimates around 30,000 accidents were staged last year.
The scams cost insurers about £350m in 2009 and added £44 to the premium of every driver in the country.
Birmingham was the UK's top fraud hot-spot and incidents rose in parts of London, the industry-funded body said.
Until recently the claims were largely confined to north-west England, and the other four top spots for insurance fraud of this sort were filled by Liverpool, Blackburn, Manchester and Leeds.
But the scam appears to be moving south, with parts of London in the top 10 for the first time. East London takes sixth position while north London is in ninth position.
The fraudsters ensure an innocent motorist drives into the back of their vehicle by braking suddenly on a clear road or roundabout. Often they use the handbrake so there are no warning lights.
It is usually accepted that a driver rear-ending another car must be at fault.
Sgt Mark Beales, from Greater Manchester Police, said fraudsters choose their "victim" drivers carefully.
"What these fraudsters tend to pick on are people who are single mums or elderly people, people who are less likely to cause them any issues. They also target drivers of commercial vehicles, because drivers tend not to care as much if they're not driving their own vehicle," he said.
The claims made average around £17,000 and can include demands for payment of storage costs and recovery fees as well as the usual personal injury claims.
Earlier this month two men, 35-year-old Rehan Javed and his brother Rezwan, 33, from Burnley in Lancashire, were convicted of running a £12m scam.
They processed many of the claims themselves via their own claims management company.
Andrew Wigmore, Policy Director at the Claims Standards Council, says the scam is "highly organised fraud".
"If you imagine the claims management company is the acquirer. He might be part of the gang. He then sells that claim for a fee to someone which is also part of the gang, or in his family which is a solicitor's firm.
"They then measure that injury by employing a doctor (who) is also in that supply chain so before you know it you've already ramped up two (or) three thousand pounds worth of fees," he told the BBC.
Glen Marr, from the IFB, said the scam costs everyone: "We estimate there are around 30,000 staged accidents a year costing the insurance industry £350m.
"And overall, fraud adds £44 to the insurance premium of every motorist - no matter what no claims bonus or safe driving record he or she may have."
IFB investigators say in one case they are currently working on, the fraudsters even called the fire brigade to have a passenger cut from the car to lend weight to their claims - yet the vehicle was barely damaged and the "injured passenger" had got out of the car and been walking about in the immediate aftermath of the accident.
Their advice to motorists caught in such an accident is to stay calm, not to accept liability and, if possible, to record photographs of the other driver and any other passengers in the car on their mobile phone.
For those who have been targeted by fraudsters, it can be a terrifying experience.
In October 2007, 82-year-old Alma Gallanders and her husband were driving home after visiting their son in hospital in Manchester. As they crossed a roundabout near the Trafford shopping centre, they were struck by another car.
"He hit us on the right wing and he wound down the window down and said 'you crashed into my car', and my husband and I said, 'Don't be ridiculous, you ran into us'," she remembered.
The cars - their Nissan Micra and his black Lexus - were barely dented. But the driver of the other vehicle, Abdullah Ahmed, made a claim for thousands of pounds in personal injuries, vehicle repairs and storage.
The 24-year-old also claimed that the Gallanders had racially abused him. They were then called to the police station to be interviewed and a file was passed to the Crown Prosecution Service.
Meanwhile though, officers started investigating Ahmed's black Lexus. Though he'd claimed storage costs, police proved he'd actually been driving it since the accident.
They were also astonished to find that the car had been involved in at least three almost identical crashes in preceding months.
In court, Ahmed pleaded guilty and admitted the allegations of racism were fabricated.
In April this year he was given a two-year jail sentence, with 12 months suspended.
But Alma is still angry at the weeks of uncertainty and trauma she and her husband faced.
"It was a nightmare, you didn't go to sleep, you were so worried and what made it even worse was that we were completely innocent of everything.
"Our only crime was being on that road at that time."
To report insurance fraud call the IFB's cheat line on 0800 328 2550
Related Internet Links
The BBC is not responsible for the content of external sites.