Newspapers split over government spending plans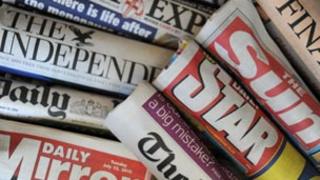 The Times calls on David Cameron to introduce means-testing in order to cut the bill for "middle-class benefits" like the winter fuel allowance.
It says the move will inevitably be unpopular, but "benefits are not there for people who like them, but people who need them".
The Daily Telegraph, however, says it is worried about targeting the better off, especially the "sheer stupidity of further handicapping higher earners with taxes levied for ideological reasons".
It says the creation of wealth by such people is vital for society as a whole.
'Disillusioned'
Several papers claim former Liberal Democrat leader Charles Kennedy may be considering defecting to Labour.
According to the Daily Mail, he is in a state of "near despair" about his party's role in spending cuts.
The Daily Express says Mr Kennedy is one of as many as five Lib Dem MPs contemplating the switch, with a source claiming he is "certainly disillusioned".
But a spokesman has denied the rumours, saying Mr Kennedy only met Labour whips because he "never rebuffs anyone" outright.
'Corrosive infatuation'
The Guardian reports that controversial Conservative donor Lord Ashcroft "may retain a significant role in the party" despite saying he would quit politics.
The paper says David Cameron "should be going full tilt" after anyone who may be seeking "to escape the full brunt of HM Revenue and Customs".
But "the prime minister instead seeks to promote them to office", it adds.
The Independent is blunt, criticising "the corrosive Tory infatuation with wealthy businessmen".
Heroes
The red tops remember the 70th anniversary of Winston Churchill's rousing Battle of Britain speech.
The Daily Mirror says the "Few" - the fighter pilots who fought the German Luftwaffe - "wrecked Hitler's plans to invade and changed the course of history".
The Sun makes a link to the "brave citizens" of today - soldiers, police and "have-a-go heroes".
It says that like the Few did 70 years ago, they will "keep fighting to keep Britain civilised in the 21st century".