Newspapers split over government spending plans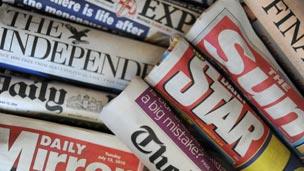 The Times calls on David Cameron to introduce means-testing in order to cut the bill for "middle-class benefits" like the winter fuel allowance.
It says the creation of wealth by such people is vital for society as a whole.
Several papers claim former Liberal Democrat leader Charles Kennedy may be considering defecting to Labour.
But a spokesman has denied the rumours, saying Mr Kennedy only met Labour whips because he "never rebuffs anyone" outright.
The Guardian reports that controversial Conservative donor Lord Ashcroft "may retain a significant role in the party" despite saying he would quit politics.
The paper says David Cameron "should be going full tilt" after anyone who may be seeking "to escape the full brunt of HM Revenue and Customs".
But "the prime minister instead seeks to promote them to office", it adds.
The red tops remember the 70th anniversary of Winston Churchill's rousing Battle of Britain speech.
The Sun makes a link to the "brave citizens" of today - soldiers, police and "have-a-go heroes".
Related Internet Links
The BBC is not responsible for the content of external sites.