Channel 'crocodile' turns out to be wood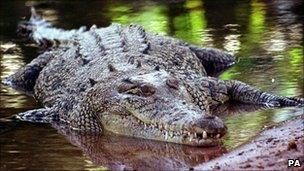 Coastguards in Dover and France say a large crocodile sighted in the English Channel was actually a piece of wood.
Officials have said that the wood probably did look like a crocodile from a distance.
Bathing in the sea in and around Boulogne-sur-Mer in France was suspended on Friday as a precaution while a search was conducted.
The claim of a crocodile sighting was made in a message which had been sent to a local newspaper, La Voix du Nord.
According to the newspaper, an animal rescue charity which had not been told directly of any sightings asked for the water to be cleared while a search took place.
A spokesman for Boulogne-sur-Mer town hall had previously said it was thought that the claim was "a joke".
Related Internet Links
The BBC is not responsible for the content of external sites.