Public 'want government to cap credit interest rates'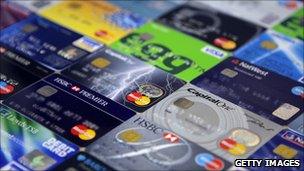 Nearly seven people in 10 want the government to impose a cap on the interest rates that can be charged by credit companies, a poll suggests.
Plans already exist to ban excessive rates on credit and store cards.
But campaign group Compass claims its survey of 2,095 people shows the public want tighter controls on all forms of credit, including pawnbroking and so-called payday loans.
It says the unsecured credit sector "causes misery for thousands".
Research published earlier this month by Consumer Focus suggests 1.2 million people are now taking out short-term payday loans every year, borrowing a total of £1.2bn.
Such loans can provide a quick and efficient way of getting hold of credit, but some providers have been criticised for charging interest rates of more than 2,500% a year.
Compass says some credit arrangements amount to "legal loan sharking" and its survey, conducted by YouGov, found that 68% of people felt it was up to the government to protect consumers.
Of those polled, 69% also agreed that the government should do more to support sources of affordable credit such as a post bank and credit unions.
Gavin Hayes, general secretary of Compass, said: "These findings show that the government's plans for credit reform don't go far enough.
"The public feel that just capping excessive credit and store card rates falls short. They want caps on the cost of credit to cover the whole of the unsecured credit sector that causes so much misery for thousands of people in the UK that can least afford it.
"This is a key test of the coalition government's stated commitment to create a fairer society. Now we need to see if it backs the people or the financiers."
Compass is part of a coalition of pressure groups, MPs and others signed up to the End Legal Loan Sharking campaign, which aims to lobby Prime Minister David Cameron to take action on the issue.
Related Internet Links
The BBC is not responsible for the content of external sites.