Service held to mark 1985 Manchester air disaster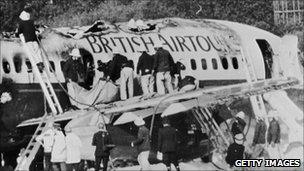 A memorial service has taken place to mark the 25th anniversary of the Manchester airport fire disaster.
Fifty-five people were killed when a British Airtours plane bound for Corfu caught fire on the runway at Manchester airport in August 1985.
Flames spread from one of the aircraft's engines to the cabin.
Passengers who survived and relatives of those who died attended a private service at the airport.
There were 131 passengers and six crew members on board the Boeing 737 when the fire broke out. Two crew members and 53 passengers died, the majority from smoke inhalation.
Kevin Ball, the airport's chaplain said: "We've found that people want to be in the area where things have happened.
"People feel very close to their loved ones at the incident scene and so it's appropriate that we do welcome them."
He said that relatives of those who died and survivors still need to grieve and remember to enable them to live with the impact of the event.
Passenger John Beardmore, who escaped with his wife and two children, said he survived after crawling towards the exit through thick smoke.
"I was just engulfed in this black smoke, toxic smoke that... rolled down the cabin and just one intake of it, my knees just buckled," he said.
"It was so thick, it tasted of kerosene and plastic... you knew that if you got to inhale it a second time you would collapse."
Many safety improvements were introduced after the disaster, including adding fire-blocking seat covers and more fire extinguishers on planes.
Steps were also taken to alter aircraft design to make it easier for passengers to escape in the event of an incident.
David Learmount, editor of Flight International magazine, said: "The pilots got a warning that an engine had failed and they started to abandon the take-off, but they didn't get any warnings about a fire.
"If you turn off the runway to the right, which he did, he was putting that burning wing up-wind of the fuselage where all the passengers were and the fire just swept towards the aeroplane and engulfed it.
"If such an event were to happen again, the pilot wouldn't turn off the runway, he'd stop on the runway even if it closed the airport down, and he'd get everybody out absolutely instantly."
The surviving cabin crew and two members of the Manchester airport fire service were awarded the Queen's Gallantry Medal for their individual bravery on the day.
The two flight attendants who died were also awarded the same honour posthumously.
Related Internet Links
The BBC is not responsible for the content of external sites.