Sunday papers discuss death of Dr David Kelly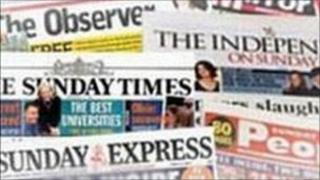 The pathologist who examined the body of Dr David Kelly has told the Sunday Times that the former weapons inspector definitely did commit suicide.
The paper says it tends to agree, but there should now be a full inquest to be sure.
Calling for "transparency", it adds: "Sometimes a government has to accept that lies proliferate and the only way to kill them off is to expose them."
Meanwhile, Nick Cohen, in the Observer, attacks the BBC for "betraying" Dr Kelly after he acted as its source.
'Intolerable' EU
The number of Britons seized under "no evidence needed" European arrest warrants rose by 50% last year, according to the Sunday Telegraph.
It is a "ghastly situation", says the paper, and amounts to the "systematic denial" of the right to a fair trial.
The Sunday Express is angry at another aspect of EU law - "plans to turn Britain's highways into toll roads".
It is "intolerable" and "typical of the domineering behaviour" we have come to expect from Brussels, the paper adds.
'Most serious duty'
The Mail on Sunday says Chancellor George Osborne and Work and Pensions Secretary Iain Duncan Smith have had an "explosive row" over welfare cuts.
The paper thinks the "rift should be healed" because welfare reform is the coalition's "single most serious duty".
The Independent on Sunday calls for "a genuine consultation exercise" with the public over how to save money.
It feels this will make subsequent cuts "more democratically legitimate and easier to implement".
'Toughen up'
The return of the X Factor to Saturday nights has the red top papers excited.
The Sunday Mirror claims Simon Cowell "has issued an ultimatum" to fellow judges Cheryl Cole and Danni Minogue, telling them to "toughen up or get out".
"He told them they must stop treating acts with kid gloves," the paper says.
Elsewhere, the News of the World claims former X Factor contestant Olly Murs has fallen out with relatives - his twin brother reportedly feels "the show has torn our family apart".