Sunday papers discuss death of Dr David Kelly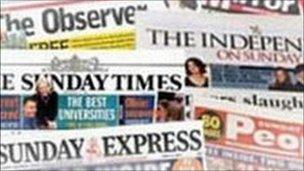 The pathologist who examined the body of Dr David Kelly has told the Sunday Times that the former weapons inspector definitely did commit suicide.
Calling for "transparency", it adds: "Sometimes a government has to accept that lies proliferate and the only way to kill them off is to expose them."
Meanwhile, Nick Cohen, in the Observer, attacks the BBC for "betraying" Dr Kelly after he acted as its source.
The number of Britons seized under "no evidence needed" European arrest warrants rose by 50% last year, according to the Sunday Telegraph.
The Sunday Express is angry at another aspect of EU law - "plans to turn Britain's highways into toll roads".
The paper thinks the "rift should be healed" because welfare reform is the coalition's "single most serious duty".
The Independent on Sunday calls for "a genuine consultation exercise" with the public over how to save money.
The return of the X Factor to Saturday nights has the red top papers excited.
"He told them they must stop treating acts with kid gloves," the paper says.
Related Internet Links
The BBC is not responsible for the content of external sites.