Weather warnings as heavy rain hits Scotland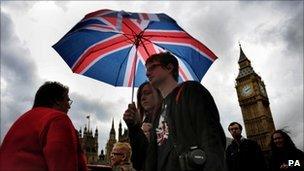 Severe weather warnings remain in place overnight for some parts of north-eastern Scotland after a day of torrential rain and strong winds.
The Met Office has warned people in Grampian and Central, Tayside and Fife to still take extra care.
BBC meterologist Rob McElwee said much of the rain across the UK would clear on Tuesday but it would still not feel like "a summer's day".
Heavy rainfall caused localised flooding and some road closures.
The northbound carriageway of the A249 in Kent was temporarily closed on Monday because of flooding but has now reopened.
Mr McElwee said the rain had eased generally and remained largely concentrated in Scotland.
He said the Scottish Highlands and Northern Ireland should expect rainfall overnight but otherwise most of the inland was going to be rather dry.
He said rain would continue in the highlands on Tuesday but England and Wales would see "sunshine, a few showers and cloud building" and although temperatures were set to rise to around 18C-22C, strong winds meant it would not feel a lot like a summer's day.
The Environment Agency has warned of possible localised flooding in the Thames area with three floodwatch warnings in place.
These affect the River Ray from Shipton Lee to Islip and its tributaries; River Cole and Dorcan Brook and River Swinbourne.
The weather is set to be unsettled though as on Wednesday more heavy rain is expected - especially across England and Wales, before the weather becomes a touch warmer on Thursday.
Sunday night saw up to 4cm (1.5in) of rainfall in just an hour in some areas of Devon and Hampshire - more than half of the average monthly total.
Thorney Island, in Hampshire, and Plymouth, in Devon, both reported about 4cm (1.5in) of rain on Sunday night.
Emergency services reported no major incidents on Monday, with Hampshire Fire Brigade saying it had taken a large number of calls, mostly from people concerned about water in their cellars.
Related Internet Links
The BBC is not responsible for the content of external sites.