Al Fayed had 'cursed' Harrods' royal warrants burned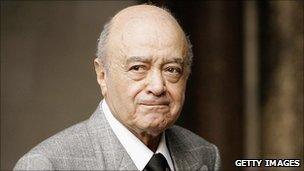 Former Harrods owner Mohamed Al Fayed has revealed he ordered the store's royal warrants to be destroyed in 2000.
He said the endorsements, from the Queen, the Duke of Edinburgh, the Prince of Wales and the late Queen Mother, were a "curse" on the store.
The billionaire also called for a "fitting" public memorial to Diana, Princess of Wales, and his son Dodi, who died in a Paris car crash in 1997.
Mr Al Fayed made the comments in a letter to the Sunday Telegraph.
The Egyptian-born tycoon sold the Knightsbridge department store for £1.5bn to the Qatari royal family in May.
Harrods first had a royal warrant in 1913 and each one was reviewed every five years.
Renewal generally depends on how much the shop in question is being used by the Royal Family.
The four royal warrants at Harrods were taken down and burned 10 years ago.
At the time the businessman said he decided not to renew the warrants, saying that since neither the Queen, nor Prince Charles had shopped there for several years, continuing to display them would have been "totally misleading and hypocritical".
He added: "I ordered their removal. Later, I had them burned. They were a curse and business tripled following their removal."
In the letter, written in response to a Sunday Telegraph columnist, Mr Al Fayed called for the new owners to keep two memorials inside the store to his son and the princess.
"Unless and until this country gives the princess the thanks and devotion she deserves in the form of a fitting public memorial, this statue, Innocent Victims, should remain to remind the world of what was lost when two young people who were on the brink of happiness together, were killed."
Mr Al Fayed said that a memorial to the late princess, a fountain in Hyde Park, was "misconceived".
He added: "With regard to the Royal Family visiting Harrods again, I doubt they would dare to show their faces."
A spokeswoman for the Prince of Wales did not wish to comment when contacted by the BBC.
Mr Al Fayed waged a lengthy campaign to prove that Princess Diana and his son Dodi were murdered in a conspiracy.
Related Internet Links
The BBC is not responsible for the content of external sites.