Soldier shot in Afghanistan named as Jordan Bancroft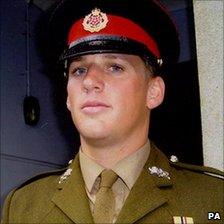 A UK soldier shot dead in Afghanistan has been named as L/Cpl Jordan Dean Bancroft, from Burnley in Lancashire.
L/Cpl Bancroft, from 1st Battalion The Duke of Lancaster's Regiment, died on Saturday while protecting a meeting between local elders and international and Afghan troops.
Defence Secretary Liam Fox praised his "selfless bravery".
The family and girlfriend of the 25-year-old said his death would "leave a huge hole" in their lives.
A statement issued by them read: "We will always remember Jordan loving a challenge, in particular outdoor pursuits.
"He was a keen snow skier and often skied for the regiment. We will miss Jordan so much."
L/Cpl Bancroft joined the Army in September 2001, and served twice in Iraq before his posting to Afghanistan.
He arrived in Afghanistan in March as a Section Second in Command with 1 Platoon, Anzio Company - part of the battalion.
His commanding officer Lt Col Frazer Lawrence OBE said: "He was one of the biggest characters within the regiment.
"L/Cpl Bancroft was a true soldier, excelling during his time in Afghanistan - loyal, brave, compassionate and honest.
"He had a natural ability to lead from the front, his men instinctively looked to him for advice and direction."
Lt Col Lawrence added: "His mates meant the world to L/Cpl Bancroft - but he held his family and girlfriend above all else, they were his life."
The soldier died after insurgent forces opened fire in Nad-e Ali, southern Afghanistan.
UK troops returned fire during the incident.
Sgt Lee Calvy, who served in the same regiment, said: "He led from the front, he was a professional and courageous soldier and an outstanding commander.
"Over the last few years our friendship has grown, especially the last five months in Afghanistan - the platoon and I will miss him deeply.
"To have had him as one of my officers and a friend has been an honour and a privilege."
L/Cpl Bancroft's death brought the number of British military personnel killed on operations in Afghanistan since 2001 to 332.
Related Internet Links
The BBC is not responsible for the content of external sites.