RSPB to protest over cuts to wildlife conservation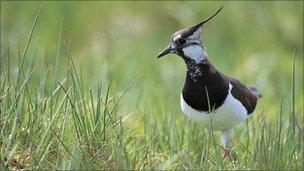 The Royal Society for the Protection of Birds is beginning a week of direct action to protest against possible cuts to spending on wildlife conservation.
The government gives £230m a year to farmers to protect wildlife, but the RSPB fears that could fall by up to a third, putting rare birds at risk.
Campaigners plan to visit the constituencies of senior ministers to deliver their message.
The government says it is speculation and conservation is a key priority.
The outcome of a government spending review is due to be published in October, with most departments expected to make cuts amounting to about 25% of their total budgets.
The RSPB says big cuts could have devastating consequences for the future of rare bird species like the cirl bunting and lapwing.
They are calling on farmers to back their protests and plan to visit the constituencies of Chancellor George Osborne, Cabinet Office Minister Oliver Letwin and Environment Secretary Caroline Spelman.
All three ministers will play a role in setting the budget for the Department of Environment, Food and Rural Affairs (Defra).
Protesters plan to erect placards reading "Don't cut the life from our countryside" in fields and at road junctions, and to put up banners carrying the same message in towns and villages.
Some banners will also be pulled through streets on the back of bicycles.
Dr Mark Avery, the RSPB's director of conservation, said: "They have to make meaningful cuts without harming vital services.
"We have been arguing very strongly that the natural environment is not the place to make swingeing cuts.
"Defra's budget amounts to just half a penny out of every pound the government spends, yet that modest investment brings huge returns in the form of wildlife, clean air and water, flood alleviation, carbon sequestration and pollination.
"Such things are beyond price and their loss would be too high a price to pay to balance the books."
Related Internet Links
The BBC is not responsible for the content of external sites.