Head of axed Audit Commission defends spending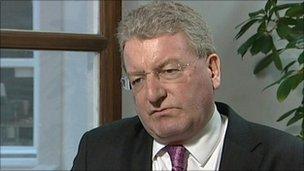 Audit Commission chairman Michael O'Higgins has rejected claims by the government that he has overseen a regime of extravagance.
Communities Secretary Eric Pickles announced earlier this month that the spending watchdog was to be scrapped - a move he said would save £50m a year.
In an interview for BBC Radio 4's Today programme, Mr O'Higgins rejected claims of profligacy made by Mr Pickles.
He said there was "a legitimate reason" for each item of expenditure.
But the DCLG sources said Mr O'Higgins' claims that the organisation had not been extravagant lacked credibility, pointing to a £166,179 bill for roleplay training for staff, a £3,000 bill for "fine dining" at Shepherds restaurant, near its Westminster offices, and a £6,000 bill for hiring Pall Mall's Reform Club for a "25th anniversary event" for "stakeholders" as examples of wasteful spending.
The Audit Commission, which was set up in 1983, is responsible for overseeing the spending of taxpayers' money by local councils and some health organisations.
Earlier this year, Mr Pickles vetoed a £240,000 pay packet for its new chief executive and criticised its decision to pay a lobbying firm £55,617.
Last week, the communities secretary went further, announcing that he would abolish the body altogether within the next two years.
He said it had "lost its way" and "rather than being a watchdog that champions taxpayers' interests", it had become a "creature of the Whitehall state".
Mr O'Higgins told the BBC he stood by the commission's spending decisions.
He said the accusations of profligacy had angered its 2,000 staff, who knew "the value of the work" they had carried out.
"A number of incorrect statements" had been made by the government about its spending, he said, such as the suggestion that £8,000 had been spent on a day at Newmarket racecourse.
Mr O'Higgins said the commission had in fact used the racecourse's conference facilities on three occasions to run training courses for local government and health authority staff.
He also defended the spending of £40,000 on pot plants, saying the commission had 37 offices around the country and the bill amounted to about £20 a week for each - "not a large amount of money" to create a more pleasant working environment.
"It's very easy to pick individual items out and hold them up to ridicule, but actually there is a sensible explanation for the expenditure that we incurred," he said.
"The requirement is to be able to explain and justify why you have spent money, rather than say that any expenditure of any sort is automatically silly.
"There's a legitimate reason for each of the items of expenditure. The question that gets raised is whether or not the expenditure need have been as high as it is in some cases.
"And of course, one of the benefits of the sort of scrutiny that the publication of data like these means is that people will be even more careful... about making sure that not just the objective of the occasion is reasonable, which it was in every one of these events, but that the amount spent was reasonable."
But local government minister Bob Neill insisted Mr Pickles' comments were justified.
He told Today: "This was a body that was behaving as a large corporate, but it's in the public sector, and in the current circumstances that was not acceptable.
"Stripping out those corporate costs, we can save about £50m a year to the public purse."
Upon its abolition, the Audit Commission's powers are due to be hived off to auditors in the private and public sectors.
Mr Neill said the scrapping of the 5% surcharge currently put on audit fees and also competition itself in the audit field would drive prices down.
Related Internet Links
The BBC is not responsible for the content of external sites.