Newspapers discuss deadlock after Australian election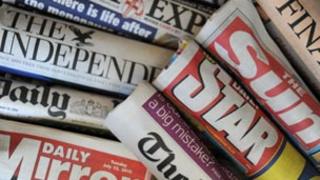 As Australia's political future hangs in the balance, Monday's papers give their views on what might happen next.
The Times thinks incumbent Prime Minister Julia Gillard "is not in a strong position to claim the right to continue in office".
But the paper feels her opponent Tony Abbott "has found it equally difficult to inspire confidence". Both, it adds, "have difficult days ahead of them".
The Financial Times thinks the task of trying to create stable government from the current situation is a "herculean" one.
'Garish shorts'
Samantha Cameron's smiling face - and big baby bump - appear in most papers, as she and the prime minister take a holiday in Cornwall.
The Daily Telegraph says Mrs Cameron "still had an eye for fashion in her yellow maxi dress".
Husband David abandoned the "garish knee-length surfer's shorts" of old, it adds.
Despite the sun though, the Daily Express says the PM "may have seen something symbolic in the weathermen's warning [of] rain clouds just over the horizon".
New 'nasty' party?
The Independent thinks Nick Clegg's leadership of the Liberal Democrats is "under growing pressure" following rumours of splits and defections.
Supporters want him to articulate the party's message "more frequently, clearly and aggressively", it adds.
Jackie Ashley, in the Guardian, is more worried about Labour and the tone of its leadership campaign.
It has become "a tin-ear, foot-in-mouth competition about who can be nastiest to the Liberal Democrats", she says.
'Strangled cats'
The Daily Mirror is outraged at claims by some fans that X Factor bosses have digitally enhanced contestants' voices.
Calling it a "con trick", the paper demands the show "play fair" in future.
Jan Moir, in the Daily Mail, says she wishes the autotune technique was used more often so "we might not have to suffer through quite so many strangled cats".
The Sun thinks the opening episode of the new series showed Britain "has enough bonkers eccentrics for the show to run into the next millennium".