'Row' between Duncan Smith and Osborne played down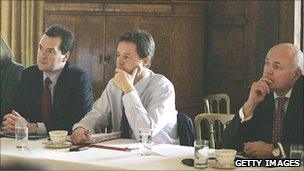 The Treasury has played down reports of a row between Chancellor George Osborne and Work and Pensions Secretary Iain Duncan Smith over welfare reform.
The Daily Mail says Mr Duncan Smith called Mr Osborne's staff "arrogant" and "rude" during weeks of stand-offs over planned benefit reforms.
But sources insisted their departments were "working well" together.
Mr Duncan Smith is said to want £3bn to scrap the existing benefits system and replace it with a single payment.
He insists this would save tens of billions of pounds over the next few years, but the Treasury is believed to be concerned about the start-up costs.
The Mail reports that, during discussions with Mr Osborne, Mr Duncan Smith complained that Treasury staff had behaved in an "appalling way" towards his department.
It adds that one official called the work and pensions secretary's plans "unaffordable and unworkable".
Mr Osborne also reportedly told his cabinet colleague: "If you come up with proposals that work, they will be treated with respect."
The revelations come as the government is preparing its comprehensive spending review, due to be published in October, which will give details of Whitehall spending cuts expected to average about 25% per department.
The Mail reports that a deal was eventually struck between Mr Osborne and Mr Duncan Smith, under which the Department for Work and Pensions will get most of the £3bn in return for making £10m of benefit cuts.
A Treasury source told the BBC they would not give a "running commentary" on the spending review but added the Treasury was "working well" with the Department for Work and Pensions on the welfare issue.
A Downing Street spokesman said: "There's a spending review on the way. Clearly the [eventual] Welfare Bill will be a very important part of that and that's something that the DWP and the Treasury understand. Discussions are ongoing."
Rumours of a row between Mr Duncan Smith, a former Conservative leader, and Mr Osborne have been circulating in Westminster for the past few weeks.
On Sunday, universities minister David Willetts said he was "not aware" of any friction between them.
He told Sky News: "I'm not aware of any such issue. All I can say is that all of us are working hard on saving money in our departments."
Related Internet Links
The BBC is not responsible for the content of external sites.