Pope's UK visit to involve strict rules for pilgrims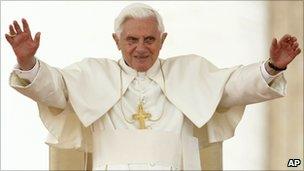 The Catholic Church of England and Wales has published a guide for those attending events with the Pope during his visit to the UK next month.
There will be strict controls over what can and cannot be brought into the three large public gatherings in London, Glasgow and Birmingham.
Alcohol, barbecues, gazebos and musical instruments will all be banned as they "could pose a threat to others".
However, picnics, banners and flags will all be allowed.
The instructions appear on the official papal visit website.
The Pope is visiting the UK between 16 and 19 September in what will be the first papal visit to the UK since that of John Paul II in 1982.
Organisers are said to be doing everything they can "to ensure as many people as possible can be with the Pope safely, securely and comfortably".
However, a spokesman for the Archdiocese of Birmingham has described security plans for the Pope's visit there as "draconian".
Other banned items include bicycles, whistles, candles and animals.
Items permitted for the events include banners, flags, torches, sun cream, small folding chairs and cushions.
Those attending are advised to make provision for all weather conditions, bring any medication they may need and emergency contact numbers.
Pilgrims should bring their wet weather gear but also hats and clothes to shield them in case of sun.
The advice reads: "Please be aware that sun can burn even on a cloudy day. Please remember that overnight temperatures may drop significantly at this time of year."
Picnics will be allowed on site but only plastic cutlery and non-breakable cups and plates should be used.
Hampers and cool boxes "should not exceed 20in x 13in x 8in (51cm x 33cm x 20cm)", the guidelines say.
In all cases, people should be prepared for "a very long and onerous journey" to and from the events due to the large numbers attending.
The events will not be open to the general public on the day.
Those wishing to attend must be attached in advance to a group from a Catholic parish.
Group members will be issued with a "pilgrim pack" containing the all-important "pilgrim pass", allowing entry to the event.
The pack will also include a 12-track CD featuring Britain's Got Talent finalist Liam McNally.
About 80,000 people are expected to attend the evening vigil in Hyde Park on 18 September, with 65,000 expected the following day in Cofton Park, Birmingham.
The Cofton Park event will be the "culmination" of the Pope's visit as he beatifies Cardinal Henry Newman, who is buried nearby.
In addition to the public events, there will be opportunities to see the Pope in London and Edinburgh as he travels the streets in the Popemobile.
Related Internet Links
The BBC is not responsible for the content of external sites.