Royal Navy 'dangerously weak', says RUSI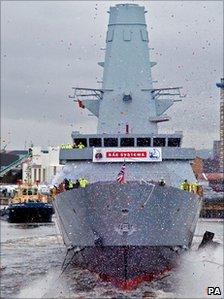 The Royal Navy is "dangerously weak" and needs urgent expansion to secure trade routes, a think tank has warned.
The Royal United Services Institute said ships in the current fleet were near the end of their useful life and at least 10 more frigates were needed.
An article in its journal said vessels should be cheaper and more adaptable, rather than expensive and specialist.
The Ministry of Defence (MoD) is reviewing future military requirements and looking at ways to cut costs.
The article, by retired Vice Adm Jeremy Blackham and Gwyn Prins from the London School of Economics, said the average age of surface combatant ships was forecast to rise from 15 years in 2012 to 21 years in 2021.
"A poised force is the prerequisite for pre-emptive action. It is also the prerequisite for surprise. Surprise is often the ability to appear without warning and in force.
"The ships needed to fulfil these missions must have endurance, versatility, role adaptability and number, and be cheaper."
Britain has more than 70 warships, including 24 frigates and destroyers, and the article pointed out that 95% of British trade by volume and 90% by value is carried out by sea.
The article by the independent institute argued that future orders should be "seriously cost-constrained" so that ships were more basic and more could be bought.
The MoD has said one of its long-term aims will be to use less specialised, cheaper ships that are easier to sell abroad.
A spokesperson said: "The future configuration of our Armed Forces will be based on the findings of the Strategic Defence and Security Review which is under way.
"The complex process of a SDSR will conclude in the autumn and speculation at this stage about its outcome is entirely unfounded."
The defence review comes at a time of intense financial pressure from the government and considerable military risk in Afghanistan.
The article said it would be a "grave failure" if the review "attended principally - or worse, exclusively - to the clamour of those issues".
It warned that the UK may be unable to safeguard trade routes from pirates, terrorists or non-friendly governments, unless the Navy received more funding.
Related Internet Links
The BBC is not responsible for the content of external sites.