Dangerous dogs laws 'inadequate'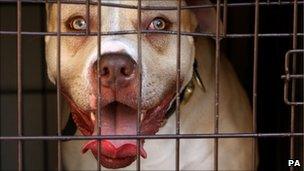 Laws on dog ownership must be improved, according to a coalition of animal charities, unions and law enforcement agencies.
In a joint statement, the group of 20 organisations said that current legislation was "inadequate".
It said the government needed to introduce up-to-date legislation to protect the public, as well as dogs.
RSPCA, Battersea Dogs and Cats Home, Guide Dogs for the Blind and the Police Federation were among the group.
Their joint statement, which they sent to the prime minister and deputy prime minister, demanded government action against irresponsible dog owners.
They also want better resources for those tasked with policing dog control laws.
It follows a three-month government consultation on dangerous dogs earlier this year by the Department for Environment, Food and Rural Affairs.
A summary of responses to the consultation is due to be published in autumn.
The statement said: "We believe that irresponsible dog ownership, whether it is allowing dogs to stray, be dangerously out of control or indiscriminately breeding them, causes significant problems for the safety and welfare of both humans and animals.
"Current legislation is proving inadequate in many cases to ensure sufficient protection.
"We believe that both the provision of sufficient resources at a local level for local authorities and the police, and updated and consolidated legislation that has a genuine preventative effect, are needed to address this problem.
"We call on the coalition government to act and bring forward legislation that addresses these areas effectively."
Defra launched a consultation in March 2010 to seek "views on whether current legislation relating to dangerous dogs adequately protects the public and encourages responsible dog ownership."
The consultation closed in June after receiving thousands of responses.
A spokesman for Defra said: "We take the issues around irresponsible dog ownership, including the health and welfare of dogs, very seriously.
"We received more than 4,000 responses to the consultation and we are carefully considering all responses before deciding on future action."
Around half a million people are bitten or attacked by dogs each year, but there are fewer than 650 convictions annually.
Related Internet Links
The BBC is not responsible for the content of external sites.