Britons hurt in Costa del Sol hotel blast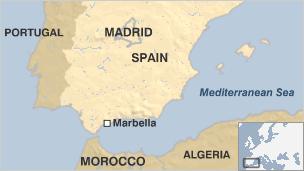 Four Britons were injured when a pipe exploded at a hotel on the Costa del Sol, in Spain, the Foreign Office says.
All were treated in hospital. One, named by UK officials as Carol Gardener, 53, is seriously ill.
A Hotel Globales Cortijo Blanco worker said Ms Gardener had been passing the hotel when the blast happened at 0900 BST, the Press Association reported.
Hundreds of Britons were staying at the Marbella hotel. The Foreign Office has been providing consular assistance.
Three people were treated for minor injuries, but Mr Gardener was taken to Costa del Sol Hospital before being transferred to Carlos Haya Regional University Hospital in Malaga.
A spokeswoman for the hospital told PA: "The woman was admitted to hospital in a very serious condition and was put on artificial ventilation.
"She is suffering from burns and is badly injured."
The hotel worker said the pipe was on the outside of the building but the explosion had only caused limited damage.
He told PA that emergency services had visited the scene and police were investigating.
It is not yet known if all of the injured were tourists.
But a local council spokeswoman told PA: "Two people who were staying in the hotel were injured and taken to the Costa del Sol hospital."
Tourist Ian Cartwright, 34, from Bromley, south east London said the hotel had a big hole ripped out of the wall after the blast.
He told The Sun newspaper: "We were having breakfast when we heard a massive bang, like a bomb going off.
"Outside the hotel you could see a big hole ripped out of the wall and the pipe torn in half.
"There were bricks scattered across the road. You could still see blood on the floor after they had taken the injured people away."
Related Internet Links
The BBC is not responsible for the content of external sites.