Don't label heroin users as 'junkies' - Drug Commission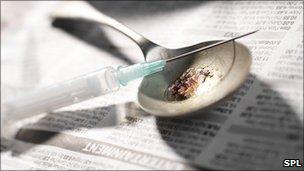 People should stop calling heroin users "junkies" or "addicts", an influential think tank on drugs has said.
The UK Drug Policy Commission said such names stigmatised users and made it more difficult to get off drugs.
Its report suggested that the policing of drugs on the streets and methadone programmes forcing users to go to chemists were "publicly humiliating".
Instead, the study said that British society needed to show more compassion towards drug users.
Authors of the six-month report said the terms "junkie" and "addict" were distrustful and judgmental and led to feelings of low self-worth among drug users.
They said these hostile attitudes only added to the stigma of drug addiction and made it harder for users to give up.
Colin Blakemore of Oxford University, one of the report's authors, told BBC Radio 4's Today programme drug addicts faced stigma "as damaging as similar attitudes to gay people, and people with mental health issues, were 30 years ago".
He added that hostility towards drug addicts failed to recognise how difficult it was for them to quit, describing what they faced as "chemical bondage".
"The crux of this problem, I'm afraid, is the persistent view that drug addiction is the problem of the addict," he said.
The report said the government must tackle what it calls the "extreme prejudice" against drug users if it is to succeed in getting addicts off benefits, back into work and playing a full role in society.
Deirdre Boyd, chief executive of charity Addiction Recovery Foundation, criticised the study, saying it did not focus enough on drug rehabilitation programmes.
"I think the greatest stigma against addicts is to not believe they can recover, to not believe they can give up drugs," she said.
"People are absolutely desperate to give up… and instead they are diverted onto over-prescription programmes, anything other than the rehab that gets them drug free."
Related Internet Links
The BBC is not responsible for the content of external sites.