Newspaper review: Dramatic images of trapped miners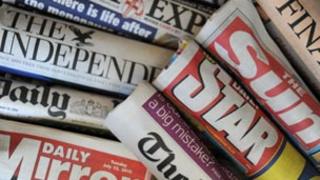 The Times and Independent both carry pictures of one of the 33 miners found alive in Chile after being trapped underground for almost three weeks.
As the Daily Mail puts it, experts fear the group could be driven insane by the prospect being holed up in area no bigger than a one-bedroom flat until Christmas.
But the Guardian says the miners have already used their ingenuity to stay alive, draining the radiators of four mining machines to provide thousands of litres of fresh water.
Military coup
The plight of the flood victims in Pakistan is highlighted by most papers.
The Daily Telegraph says President Zardari's government is in crisis, with one coalition partner calling for a military coup to tackle corruption and failures in the flood relief effort.
President Zardari himself tells the Independent that it will take at least three years to repair the damage.
The Daily Mirror applauds the British public for donating more than £30m to the disaster appeal fund.
Rescue attempt
The front page of the Guardian is dominated by a picture of troops in the Philippines preparing to storm the bus hijacked by a gunman in Manila.
Eight tourists died in an operation described by the Times as "farcical".
In the paper's words, it was a textbook example of how not to release hostages.
It describes how one policeman repeatedly struck the door of the bus with a sledgehammer until it flew from his grip. He then had to grope inside the vehicle to retrieve the implement.
Small print
Both the Daily Express and Daily Mail report that the lawyer nicknamed Mr Loophole has himself come unstuck on a point of detail.
Nick Freeman's Staffordshire bull terrier Rocco collapsed during a holiday in the south of France.
Faced with vets' bills running into several thousand pounds, the family turned to their pet insurance policy.
They were only to be told they should have informed their insurer that Rocco was being taken abroad.